Yahoo has redesigned its homepage with a greater focus on becoming "more intuitive and personal," according to CEO Marissa Mayer. The redesign keeps Yahoo's core of Mail, News, Finance and Sports on the left side of the screen, but has given the logos new looks. The homepage also eliminated its old links-in-boxes format and has replaced it with an infinite scroll format. Mayer hopes the changes will help return the brand to its place as an online leader.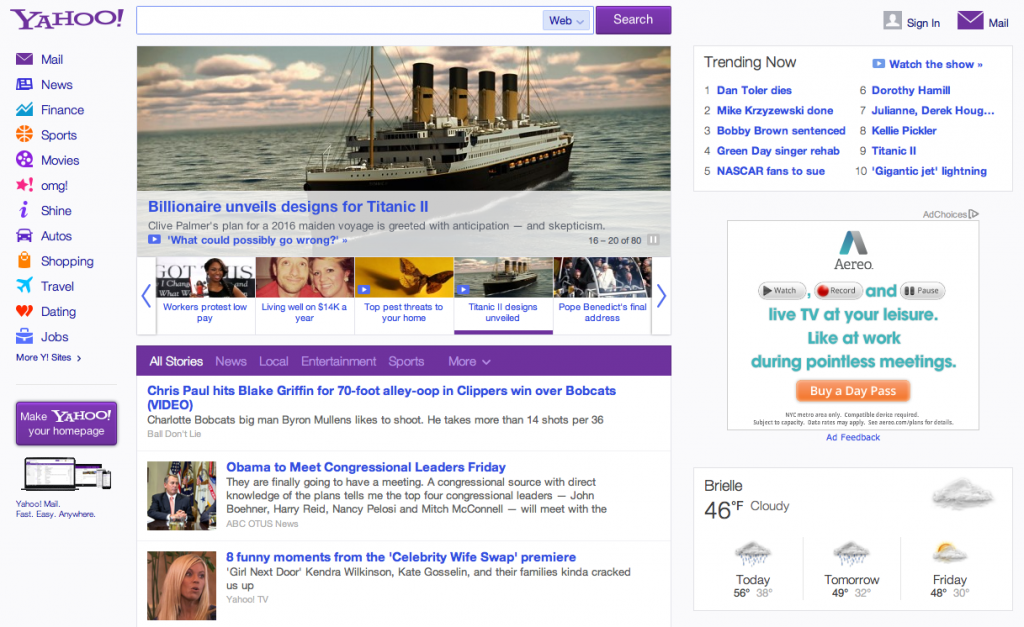 Users can customize the new format to eliminate topics that are not relevant or do not interest them. Users can also log in with Facebook to allow for suggestions based on what their friends read.
Yahoo has made efforts to improve its sharing capabilities, and users can now more easily share links to Facebook or Twitter with a single click.
"The new Yahoo.com features a number of personalized apps, like weather, stock quotes, and Facebook friends' birthdays. These new features and design will appear in the Yahoo smartphone and tablet apps, as well," reports Digital Trends.
"The new Yahoo! experience works well on the go — we've optimized it for smartphones and tablets," according to Mayer's post on the company blog. "And, thanks to some under-the-hood improvements, Yahoo! is also faster."
"The Yahoo homepage redesign is the third overhaul at the company since Mayer took over as the company's chief executive last July, after making a name for herself at Google," notes the article. "In December, Mayer pushed out a renovated Yahoo Mail and Flickr, which remains popular among the amateur and professional photographer crowd (if not everyone else). According to Mayer, the Yahoo.com redesign won't be the last makeover we see from the Web giant."
The CEO said Yahoo will continue to make additional improvements in the coming months.