Yahoo was among the first companies earlier this week to reveal its new slate of digital programming at the Digital Content NewFronts in New York City. The company unveiled 18 new series including shows with celebrities such as Michelle Rodriguez and Naomi Campbell attached. Yahoo's slate includes a competition show called "Ultimate DJ," produced by former "American Idol" judge Simon Cowell and a daily news show called "Yahoo News Live," with Katie Couric set to host.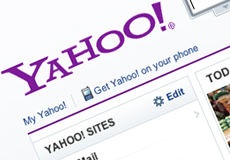 Yahoo's demonstration featured special guest appearances from model Naomi Campbell and actress Michelle Rodriguez, both of whom have their own shows with the digital company. Campbells' "I Am Naomi" and Rodriguez's "Riding Shotgun with Michelle Rodriguez" will serve as complementary content for two of the company's digital magazines, Yahoo Style and Yahoo Auto.
"The digital magazines, which are filled with so-called native advertising, align with Yahoo's overall goal to offer more content, particularly for mobile viewing," reports The New York Times.
"We're proud of our transformation into a mobile-first company," said Yahoo CEO Marissa Mayer.
The NewFronts is an opportunity for digital companies to connect with advertisers to sell ad inventory on many of their upcoming shows.
Topics:
Advertising
,
American Idol
,
Digital Content NewFronts
,
Digital Magazine
,
I Am Naomi
,
Katie Couric
,
Manhattan
,
Marketing
,
Michelle Rodriguez
,
Naomi Campbell
,
New York City
,
NewFronts
,
Riding Shotgun with Michelle Rodriguez
,
Simon Cowell
,
Ultimate DJ
,
Yahoo
,
Yahoo Auto
,
Yahoo News Live
,
Yahoo Style