Creative lab Party is reinventing the photo booth. From now until January 14, 2013, consumers in Harajuku, Tokyo who have an extra 15 minutes and $250 can get striking miniature models of themselves. "It's a reservations-only combination 3D scanner and printer that won't just capture a flat face shot, but a head-to-toe, 360-degree, topographically accurate rendition of you," reports Fast Company.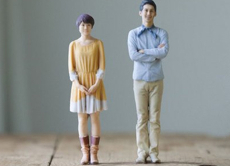 "The printed portraits themselves are highly detailed, and immeasurably charming," the article continues. "Ranging from four to eight inches, they're also incredibly expensive (starting at about $250) and, if I'm reading the translated press release properly, require subjects to sit still for 15 minutes while the scanner does its work."
"Since the booth is really a prototype, the need for manual adjustments to the final products are almost guaranteed, which undoubtedly drives up the price of the experience."
The five Party founders left their respective ad jobs in Tokyo and the U.S. to launch a creative lab based in Tokyo and New York that combines entertainment, product development, technology and advertising. "The partners plan to work with brands, and on entertainment and self-driven projects across platforms and borders," details Fast Company in a separate profile piece.