Scientists and engineers are working towards making wireless power possible by harvesting and transforming existing energy from the world around us. Models they have looked at include nanoscale pillars that turn waste heat into electricity and a spongey smartphone case that generates electricity from sitting on a vibrating surface. One source of energy is thermoelectricity, which works by creating electricity from the current created by electrons moving from hot to cold, an approach that may be ideal for humans.
Since the human body is a constant source of heat, it is an easy source for wireless power.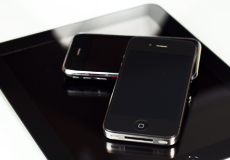 Orange and Vodafone have already created versions of mobile phone chargers using thermoelectricity. Orange's Power Wellies are mud boots that have a thermoelectric panel in the sole to charge phones with 12 hours of battery life. Vodaphone's sleeping bag and Daisy Dukes (shorts) have thermoelectric pockets with 24 hours of battery life.
Piezoelectricity is another form of potential wireless power, which uses quartz and other materials that create an electric charge when shaken. This technology has the potential to be used to create a laptop that charges itself by every keystroke.
A more obvious solution to wireless power is biomechanical energy, energy that is obtained from the movement of the human body. Bionic Power has created a PowerWalk military-grade knee brace from this technology. Bionic Power believes that an hour of walking with the brace could charge up to four cellphones.
Solar Energy is also another possible solution, which would charge a phone when the device is exposed to sunlight. The problem with this method is that solar electricity takes a very long time to generate.
"This isn't just wireless charging; this is harvesting energy from the world around us," reports Quartz. "Rather than use acres of solar panels or skyscraping wind turbines, energy harvesting engineers want to power your mobile devices from things like heat differentials, ambient vibrations, and your walk to work. That's not just an engineering challenge, but also a design challenge. Tapping into the energy of everywhere shouldn't add friction to the pace of modern life."