Samsung and Google continue to compete with Apple's dominance in the smartphone market. Samsung's influence is growing — the South Korean company now sells a total of 40 percent of all gadgets using Google's Android software — and Google is worried that Samsung might flex its muscle to renegotiate its arrangement and adversely affect Google's successful mobile-ad business.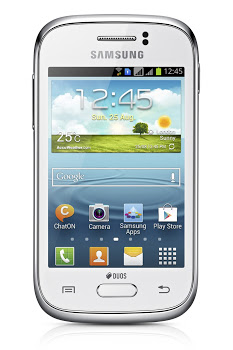 "Now, as top executives from the world's mobile industry gather in Barcelona (at Mobile World Congress) Google is meeting with other companies in hopes that their Android devices can keep Samsung's leverage in check by providing legitimate competition," according to sources and reported by the Wall Street Journal. Google hopes new devices from HTC and HP can challenge Samsung's rising dominance.
On one hand, Samsung's success has boosted Google's mobile ad business, getting its operating system in more hands worldwide. But Andy Rubin, the head of Android, "also said Samsung could become a threat if it gains more ground among mobile-device makers that use Android," according to the article.
Google's recent acquisition of Motorola Mobility, which makes Android smartphones and tablets, can be seen as a type of insurance policy against Samsung's growing power — which is impressive. Last year, it shipped "215.8 million smartphones, virtually all of which were Android devices, representing 39.6 percent of the global market, according to research firm IDC. Apple shipped 136.8 million iPhones, or 25.1 percent of the smartphone market," notes WSJ.
And Samsung's presence is still getting bigger. "Samsung has increased its lead in Android-based smartphones, claiming 40.2 percent of the market in the fourth quarter, up from 38.7 percent a year earlier, according to IDC. Huawei Technologies Co. was in second place, with 6.6 percent, the same as a year earlier." Additionally, Samsung is the biggest maker of Android tablets.
Sources claim Google worries that Samsung will demand a larger share of the online advertising revenue generated from its Web-search engine. In the past, Samsung received more than 10 percent of that revenue, but the company might want more, sources say.