Wired reviews Western Digital's new WD TV Play, describing it as a capable set-top box priced for the money conscious consumer — but only gives the $70 media player a rating of 6 out of 10 ("a solid product with some issues"). The Play will have to work hard to stand out, since it faces stiff competition from the $100 Apple TV and $80 D-Link MovieNite Plus and Roku 2, which all offer 1080p playback and array of streaming services.
The WD TV Play supports a "generous number of file formats, which will go a long way for those of us with massive collections of movies and shows," notes Wired.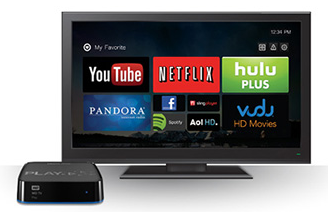 "The 4-inch WD TV Play sports HDMI, optical audio and component cable outputs on the back, alongside a gigabit Ethernet port. The device also has an 802.11n Wi-Fi radio, if you'd prefer to keep yet another cable out of the mix," explains the article. "Initial setup took seconds — just plug it in, connect it to your TV via HDMI (cable not included, unfortunately) and select your language."
It comes with a small remote control that includes buttons for Netflix, Vudu and Hulu Plus, the latter two of which can be reprogrammed. The review calls the user interface "utilitarian," noting its 33 pre-installed apps divided into seven categories including sports, music, news and Web videos. Additionally, each page is customizable and can fit up to 24 apps per page.
Writing for Wired, Nate Ralph describes the navigation as "a bit plain, and sluggish," adding, "the cursor generally felt a half-step behind every button press I made. Disabling the live widgets helped speed things up, but I'd still occasionally find myself overshooting what I was tapping for and firing up the wrong app or album. Things get worse if you're running something in the background — my television will probably never be the ideal place to browse Facebook while jamming to albums on Spotify, but sluggish software doesn't help matters much."
However, Ralph concludes that "the WD TV Play excels at its primary function: streaming 1080p media onto your television. Files are played back in standard definition (480i) if you opt to use the bundled component cables. Playback is smooth: whether playing files from a USB key or streaming across my home network I saw nary a stutter and no artifacting."
Topics:
Apple TV
,
Apps
,
Audio
,
D-Link MovieNite
,
HDMI
,
Roku
,
Roku 2
,
STB
,
WD Play
,
WD TV Play
,
Western Digital