A new artificial intelligence service offering free watermark removal from photographs is causing worry among copyright holders. Photographers took to Twitter to complain about this threat to their livelihoods while the creative community at large pondered the broader implications for AI infringement on intellectual property rights — a central aspect of discussions involving ChatGPT, which was trained using privately held as well as public domain data. Available to download as an app from sites including Product Hunt and the Google Play Store, the WatermarkRemover.io app itself is legal, while some of its potential uses are not.
Watermark removal without consent of the original's owner is illegal under the U.S. Copyright Act Section 1202. That means using WatermarkRemover.io within lawful parameters is a responsibility left to app users. While the company's FAQs say users should not "remove copyrighted images' watermarks" without the owner's permission, many see that as toothless, raising enforcement issues.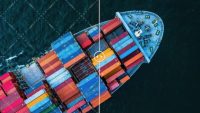 Another part of the site says, "we suggest that our users do not remove watermarks from the images for commercial use," adding that "using images without watermark for personal use is totally acceptable."
Not all users will understand the difference. Unlike recording artists — who when it came to sampling relied mainly on moneyed corporations to litigate and set precedent — most photographers are not backed by the equivalent of labels. Similar to music sampling, there are those who express outright hostility to copyright enforcement.
"Watermarks are worthless, serve no purpose, and make your work less valuable. The tools to violate your (stupid) watermark only get stronger every day," one dissenter posted, according to the art and design website Creative Bloq.
While the ability to remove watermarks or other unwanted objects from a photo has long existed using tools like Adobe Photoshop or Google's Magic Eraser, Watermark.io takes it to another level, with the AI reconstructing the image that would have been under watermark. Some photographic enterprises have embraced AI.
"Stock image giant Shutterstock recently introduced its own text-to-image generator based on OpenAI's DALL-E 2, and Adobe Stock has also welcomed the technology by accepting AI-generated content for sale on its platform," The Verge writes, explaining "this is despite criticism from creatives that their content is often scraped from the web without compensation or consent to train these same systems."
The situation is rife with moral and ethical concerns. "AI technology is calling out for strong, clear regulation," writes Creative Bloq, adding that "right now, no-one is really sure what's allowed and what isn't, as was proven recently when a user got suspended on Reddit for posting their own AI artwork." A blockchain record of ownership, such as is used for NFTs, could be a helpful step, the outlet concludes.
Related:
After Inking Its OpenAI Deal, Shutterstock Rolls Out a Generative AI Toolkit to Create Images Based on Text Prompts, TechCrunch, 1/25/23
Topics:
Adobe Photoshop
,
Adobe Stock
,
AI Ethics
,
App
,
Artificial Intelligence
,
Blockchain
,
ChatGPT
,
Copyright
,
Copyright Act
,
DALL-E 2
,
Data Scraping
,
Google
,
Google Play
,
Intellectual Property
,
Magic Eraser
,
NFT
,
OpenAI
,
Photography
,
Product Hunt
,
Reddit
,
Shutterstock
,
Twitter
,
Watermark
,
WatermarkRemover.io