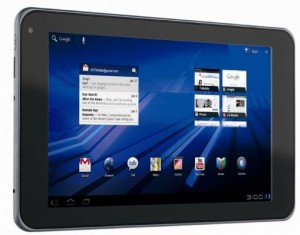 The new G-Slate tablet from LG (sold by T-Mobile) was launched last week as the first tablet in the U.S. using Google's Honeycomb software (Android 3.0 for tablets) to offer 4G speed and 3D video. With an 8.9-inch screen, the G-Slate offers less viewing area than Apple's iPad 2 and the Motorola Xoom, but more than the Samsung Galaxy Tab and RIM's BlackBerry PlayBook.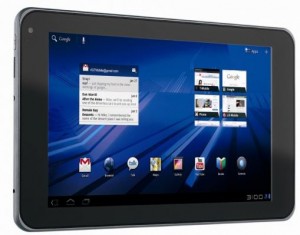 The greatest challenges for the new device may be how to compete with the highly successful iPad — and how to differentiate itself from the other Android-based devices currently on the market. In his WSJ "All Things Digital" column, Walt Mossberg suggests that the G-Slate aims to be different in three major ways: by offering 4G cellular data speeds, enabling 3D video creation and viewing, and featuring an "in-between" screen size as compared to current offerings.
In his review, Mossberg found the performance to be on par with the Honeycomb Xoom, but overall not as good a choice as the iPad 2 (especially in terms of price, size and weight). And regarding the 3D functionality, he writes, "The 3D feature, which requires the use of 1950s-style colored glasses, seems like a parlor trick to me."
Mossberg reports that the biggest selling point of the G-Slate is the 4G speed, but adds that the current problem with all Honeycomb devices involves a lack of "tablet-optimized third-party apps." It's tough to compete with Apple in this regard, considering it already claims 65,000 tablet apps.
Mossberg's bottom line: "The G-Slate isn't as good a tablet as the iPad 2. I'd only recommend it for people who want the higher cellular speeds, or who prefer Android."