Now that Amazon has entered the U.S. grocery market, offering home delivery, other companies selling food are stepping up their operations. Walmart is doing so by experimenting with delivery and, more importantly, launching curbside pickup. Target just acquired startup Shipt, which delivers groceries on the same day an order is placed. Traditional supermarkets are also battling startups such as meal-kit company Blue Apron and organic vendor Thrive Market. Amazon, however, remains the giant to beat.
VentureBeat reports that Amazon "has amassed an 18 percent share of the $12.6 billion U.S. online grocery market mainly through the sale of packaged goods such as pasta and diapers." The company started out ten years ago with its AmazonFresh service, which delivers dairy, fresh produce meat and other perishables. That service never really caught on; Amazon tried again with its $13.7 billion purchase of Whole Foods. Analysts believe Amazon will turn Whole Foods' 450 locations into "distribution hubs for home delivery."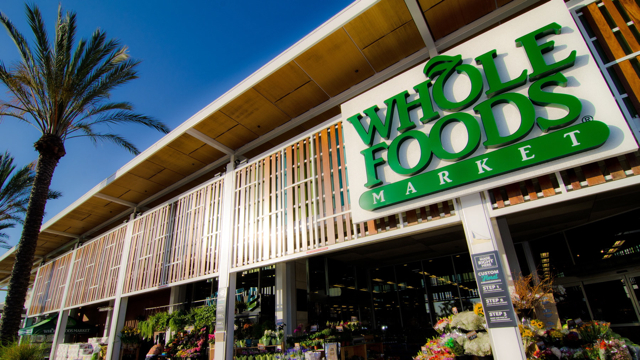 Kroger and Walmart believe that "pickup is the true sweet spot in the industry's online evolution," and Amazon is also testing the theory in Seattle. Packaged Facts, which predicts the sector will grow to $41.7 billion by 2022, believes that "traditional retailers can win with real estate."
Kroger started delivery in 2014, with the purchase of Harris Teeter, a chain in the U.S. southeast. ClickList vice president Matt Thompson says Kroger now offers pickup at 1,000 of its 2,800 stores and is adding 400 to 500 locations a year. He added that pickup customers spend "40 percent to 60 percent more than traditional shoppers, because they tend to stock up on bulky items such as bottled water."
Walmart plans to add free curbside pickup to 1,000 stores in 2018, "bringing the total to 2,100 of its 4,700 U.S. locations."
Recode reports that Target just purchased grocery delivery startup Shipt for $550 million in cash. Shipt, like its rival Instacart, "partners with a network of brick-and-mortar grocery chains to pick orders off of their shelves and deliver them to customer's doors on the same day they are ordered."
Shipt will continue serving existing retail partners, while Target joins its online marketplace, eventually offering Shipt same-day delivery on the Target website and app. Shipt customers currently pay $99 per year for unlimited deliveries, and operates in 72 U.S. cities, with plans to expand to 140 markets by the end of 2018.
Target recently debuted curbside pickup beta tests in 50 stores, and is "also expanding how many of its stores serve as mini fulfillment centers to source inventory for online orders." Current plans call for half of Target's 1,800 stores to be part of the Shipt platform by summer next year; Target customers will have to pay the Shipt membership fee.
Shipt, founded in 2014 by Bill Smith, has 170 employees in Birmingham and San Francisco. Series A investors included Greycroft Partners, e.ventures and Harbert Venture Partners. Shipt said it expects to do $1 billion in sales next year, a number that "includes the total volume of orders that flows through its platform and into its partner grocers' coffers."
Topics:
Amazon
,
AmazonFresh
,
Bill Smith
,
Blue Apron
,
ClickList
,
Curbside Pickup
,
Delivery
,
Greycroft Partners
,
Groceries
,
Grocery Delivery
,
Harbert Venture Partners
,
Harris Teeter
,
Home Delivery
,
Instacart
,
Kroger
,
Matt Thompson
,
Packaged Facts
,
Seattle
,
Shipt
,
Target
,
Thrive Market
,
Walmart
,
Whole Foods