The U.S. Treasury Department has issued guidelines specifying how to ensure virtual currency transactions comply with the government's sanctions policies, a move by the Biden administration to thwart ransomware attacks, money laundering and other abuses. The new rules emphasize using geolocation tools that block IP addresses from sanctioned countries, ongoing monitoring of sanctioned entities and individuals and periodic review of transactions involving blacklisted virtual currency addresses. Treasury's Financial Crimes Enforcement Network has had virtual currency rules in place since at least 2011, but this update gives the directives new teeth.
"This is the beginning of a concerted effort, a shock-and-awe campaign around ransomware," TRM Labs' Ari Redbord, a former senior Treasury adviser whose current employer investigates cryptocurrency-related fraud, said in The Wall Street Journal.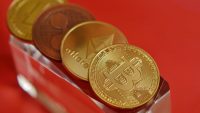 In September, Treasury sanctioned the Russian-owned SUEX OTC virtual-currency exchange, which it identified as helping to launder ransomware payments. The following month, the Justice Department announced creation of a national cryptocurrency enforcement team to investigate and prosecute criminal misuse of virtual currencies.
The new best practices came on conclusion of a six-month review of sanctions programs by Treasury, which appears to be using the tool more aggressively in recent years. The special focus on virtual currencies coincides with an ongoing administration-wide effort to figure out how to regulate financial technology without stifling innovation.
"Technological innovations such as digital currencies, alternative payment platforms and new ways of hiding cross-border transactions all potentially reduce the efficacy of American sanctions. These technologies offer malign actors opportunities to hold and transfer funds outside the traditional dollar-based financial system," the Treasury report says.
"The United States has more than 9,000 sanctions in place, largely to punish countries such as North Korea, Iran and Venezuela for facilitating terrorism, violating human rights or committing other illicit behavior," The New York Times reports. "The strength of the U.S. dollar and its role as the world's reserve currency means that the United States can cut off countries, groups or individuals from much of the global financial system at its discretion. That has intensified efforts to find new ways to evade America's sanctions, including by using digital currencies that do not flow through the traditional banking system,"
Use of sanctions grew to record levels under Donald Trump, which according to law firm Gibson, Dunn & Crutcher averaged more than 1,000 new sanctions per year. The Biden administration is on track to impose 900 sanctions this year, a tie for the third-highest total.