Time Warner, named partly after a signature magazine, is getting out of the magazine business. On Wednesday, the company said it would spin off its entire Time Inc. magazine group, creating a separate public company. Moves like this aren't entirely surprising considering the industry's decline in newsstand sales and ongoing ad slump, which affects all publications but particularly weekly ones.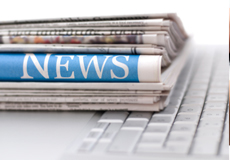 The decision marks the end of talks between Time Warner and Meredith Corp., and the negotiating of a "deal under which most of the Time Inc. magazine group would be merged with Meredith's magazines into a newly created company," reports the Wall Street Journal. The new company would not have included big names like Time, Fortune or Sports Illustrated, which would have stayed in Time Warner.
Throughout the talks, Time Warner had still been considering a spinoff. "In the end the company concluded that the benefits of a complete separation were greater than striking the Meredith deal, said a person familiar with the situation," notes the article.
"After a thorough review of options, we believe that a separation will better position both Time Warner and Time Inc.," said Time Warner CEO Jeff Bewkes. "A complete spinoff of Time Inc. provides strategic clarity for Time Warner Inc., enabling us to focus entirely on our television networks and film and TV production businesses, and improves our growth profile. Time Inc. will also benefit from the flexibility and focus of being a stand-alone public company and will now be able to attract a more natural stockholder base."
One factor in its decision to spinoff the magazine portion of the company was the decline in newsstand sales of People. At one point, the magazine generated more than half of Time Inc.'s profits. "Newsstand sales of People —which as a weekly is the biggest selling magazine at newsstands by volume— declined 12 percent in the second half of last year, according to the Alliance for Audited Media. Newsstand sales across the industry have been dropping around 9 percent a year for the last several years, according to AAM data," reports WSJ.