What will the smartphone of the future look like? According to Mark Rolston, creative director for Frog Design, the smartphone may be reaching the end of its evolution. This doesn't mean small steps forward won't be taken with hardware, software and design, but it is unlikely we'll see any more innovative leaps, he suggests. And this doesn't mean the smartphone will die, but we should expect it to become part of a world of connected devices.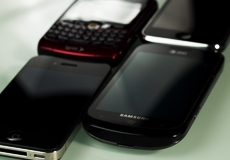 "As Rolston and other future thinkers who study the mobile space conclude, smartphones will become increasingly impactful in interacting with our surrounding world, but more as one smaller piece of a much large, interconnected puzzle abuzz with data transfer and information," writes CNET.
Aside from looking forward to an inevitable increase in camera software and NFC features, you'll start hearing more about sensors sooner than later. These are inside the phones and compute data on your phone's movement and speed, rotation, and lighting conditions.
"They may not be the sexiest feature in your phone, but in the future, sensors like accelerometers will be able to collect and report much more detailed information," notes the article.
How would these benefit the average phone user? Here's one example: "Imagine an air quality sensor on a smartphone suggests David Harris, social change agent at Institute for the Future in Palo Alto, Calif. Much like the Waze app crowdsources city maps and traffic conditions, sensors like the one Harris proposes could collect incredibly useful data about air quality around the world. That, in turn, could be used to monitor global climate change, or perhaps pollutants or allergens, through a network of smartphones," writes CNET.
That's just one example of many possibilities. It is also likely that we'll see a rise in gestures and touch-free input, along with things called "appcessories," or "a set of highly specialized peripheral software that fulfills very targeted needs, stuff that most people wouldn't want their everyday phone."
For example: "Let's say you've downloaded an art app that maps out a paint-by-numbers schematic of your favorite Picasso. Now let's say you've bought an after-market appcessory, a tiny pico projector with an NFC chip installed that, when you slip it onto the phone, beams out the image onto your surface so that you can get to work on your painting, or vegetable garden planting, or DIY home project."
Topics:
App
,
Apps
,
Camera
,
Frog Design
,
Hardware
,
Mark Rolston
,
Mobile
,
NFC
,
Sensor
,
Smartphone
,
Software
,
Technology