In a 7-2 vote, the U.S. Supreme Court ruled that an inter partes review (IPR) at the U.S. Patent and Trademark Office does not violate a defendant's constitutional right to have a case determined by a federal court and jury. Congress created the process in 2011 to handle the large number of flimsy patent applications. The Houston-based Oil States International brought the case; pharmaceutical companies also called the IPR process "a threat to innovation." Justices John Roberts and Neil Gorsuch were the dissenting votes.
Reuters reports that, since the IPR review was put in place, "the agency's Patent Trial and Appeal Board has canceled all or part of a patent in about 80 percent of its final decisions," including an Oil States patent on protecting wellhead equipment.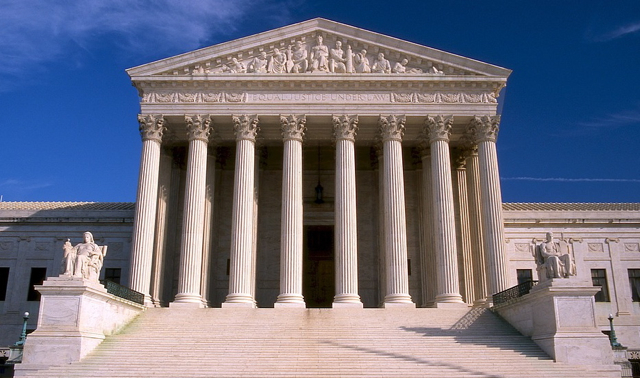 AbbVie, Allergan and Celgene, among other pharmaceutical companies "called for scrapping the IPR system," arguing that "patents are private property that may be the revoked only by a federal court, where the standard for canceling a patent is higher than in the review proceedings."
It's also more expensive; according to Apple, "a patent office review costs about $350,000 to litigate fully, whereas in district court it could be $3 million."
Silicon Valley companies such as Apple and Samsung Electronics are "frequently hit with patent infringement suits," and welcomed the Court's ruling. The Supreme Court did, however, in a separate 5-4 ruling, criticize one aspect of how IPR reviews are conducted, ruling that, "when several parts of a patent are challenged, the patent office does not have the discretion to review only some of them."
The U.S. Patent Office is "carefully considering" the most recent rulings, said spokesman Paul Fucito to determine their "impact on proceedings before its administrative tribunal that conducts the reviews."
The case the Supreme Court ruled on began in 2012 when Oil States sued its rival Greene's Energy Group, saying it infringed its patent for use in the fracking of oil wells. Greene's filed for an inter partes review, and patent office tribunal canceled key parts of the patent, which a federal appeals court upheld in 2016. At the time, Greene's Energy was backed by the Trump administration and had the support of Google and Intel. Before the justices considered the Oil States case, 30 similar appeals had piled up.
Topics:
AbbVie
,
Allergan
,
Apple
,
Celgene
,
Congress
,
Donald Trump
,
Federal Court
,
Google
,
Greene's Energy Group
,
Intel
,
Inter Partes Review
,
John Roberts
,
Neil Gorsuch
,
Oil States International
,
Patent and Trademark Office
,
Patent Infringement
,
Patent Trial and Appeal Board
,
Patent Trolls
,
Patents
,
Paul Fucito
,
Samsung
,
Supreme Court
,
Trolls
,
USPTO