The new, affordable 3Doodler from Boston-based WobbleWorks could help introduce 3D printing technology to the average, price-conscious home. The $75 3Doodler is a handheld version of the extrusion element found in most RepRap-style 3D printers, with a heat-shielded ergonomic grip. In order to better visualize the tool, Wired suggests you imagine a hot glue gun shaped like a thick marker, with the ability to print a fine line of plastics.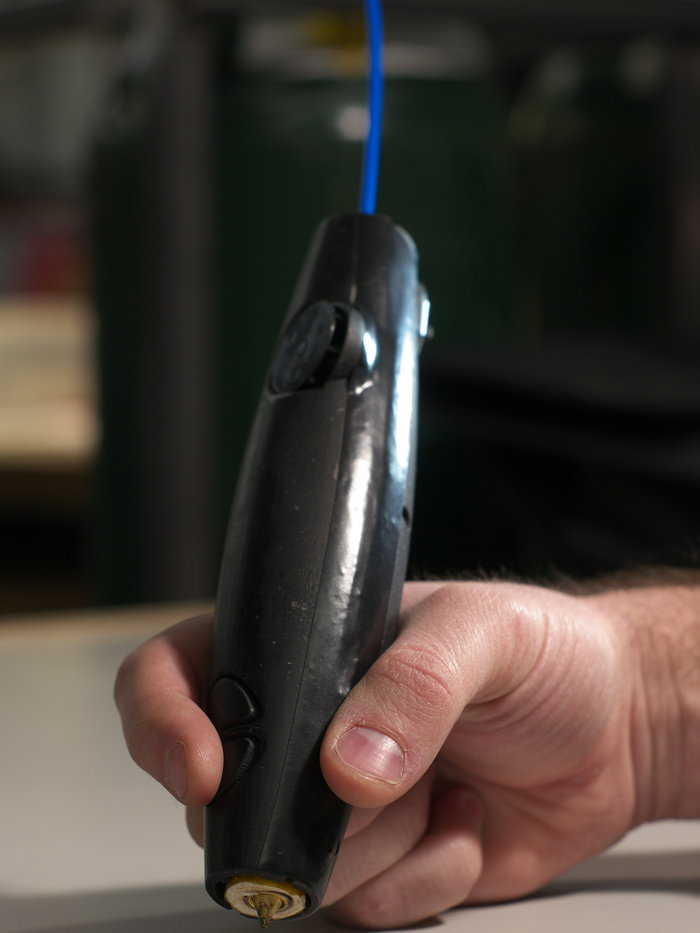 "By removing the complex mechanisms that move the printhead, the electronics to control it, and the structure that houses it, the team has put the 3Doodler in range for anyone with a passion for making," explains Wired.
The project launched on Kickstarter this week and has already exceeded its funding goal. The promotional video for the 3Doodler promises anyone can use it: "If you can scribble, trace, or raise your finger in the air you can use a 3Doodler."
"The device acts a bit like a magic wand. Shapes can be drawn in the air, and because the plastic cools quickly, 3D models take shape before your eyes," reports Wired. "More advanced structures can be created by drawing sub-components on flat surfaces, then combining them into impressively large sculptures with dollops of melted plastic."
The "ink" used for the pen is the same ABS or PLA filament used by MakerBot and similar fabricators. "In an effort to find their niche, the 3Doodler team has recruited a team of Etsy designers who specialize in wire art to help create templates, projects, and ideally a use case that transforms the 3Doodler from 'neat gadget' to 'must have tool,'" suggests the article.
For more information, visit WobbleWorks or the 3Doodler site.