Trying to assuage fears over what investors are concerned is a limited-growth market, audio streamer Spotify says it plans to hit one billion global monthly average users by 2030. Spotify closed Q1 with 422 million MAUs and 182 million paid subscribers, per Statista. At an Investor Day presentation in New York City this week, CEO Daniel Ek and chief freemium business officer Alex Norström showed slides indicating the company's goal represents compounded annual growth rates of 26 percent for MAUs, paid subscribers and revenue (on a currency-adjusted basis). To get there, the executives emphasized emerging markets and podcasts.
Spotify's 2021 year-over-year growth was +61 million MAUs. If Spotify "could  somehow maintain that pace of growth over the subsequent decade (+61m per year), its platform would hit one billion MAUs in the second half of 2030," writes Music Business Worldwide, which extensively crunched the numbers presented, writing that growth in Latin America — highlighted as an emerging market success — had actually begun to slow, dropping to +11 million MAUs in 2021 from +16 million in 2020.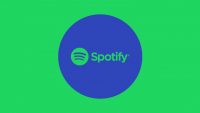 Spotify's first investor meeting since 2018 "came amid investor and analyst concerns the company isn't going to turn a profit soon and a 55 percent slide in its share price so far this year," The Wall Street Journal reports, noting that a "growing set of tools for creators" and expansion into "audiobooks and eventually education, sports and news" were emphasized as part of its profitability plan.
Speaking via remote stream from what WSJ described as "a theater in Spotify's New York office," Ek said the company's stock dive (off 70 percent from last year's high, amidst a general tech tumble) didn't tell the whole story of the expansion beyond music: "We've weathered our share of challenges, but we've also morphed pretty dramatically as a business, and I'm not sure that journey is fully understood."
In an interview with WSJ, Ek described Spotify growing to 10 times its current size, generating "$100 billion in revenue annually with a 40 percent gross margin" by 2030, stating, "this is a much bigger business than the one you saw in 2018." WSJ quoted Wedbush Securities analyst Daniel Ives characterizing the projection as "an impressive but aggressive goal."
TechCrunch says "the company spent a good portion of its presentation specifically focused on podcasts," with director of talk verticals Maya Prohovnik telling investors that "Spotify today has over four million podcasts, up from 500,000 in 2019" and "one thousand of these are either operated or licensed as exclusives by the company."