Spotify will acquire London-based startup Sonantic, a company that creates realistic human voices from text using a proprietary AI engine. Sonantic made a recent high-profile contribution to pop culture by providing the means to simulate actor Val Kilmer's voice in Paramount's summer blockbuster "Top Gun: Maverick." The move expands the music and podcasting streamer to expand into audio technology with broad implications. Spotify vice president of personalization Ziad Sultan says the technology will be integrated into the main platform to allow the company "to engage users in a new and even more personalized way."
"Listeners come to Spotify for all of the best audio content in the world — and we believe that Sonantic's technology will allow us to create high-quality experiences for our users by building on our existing technical capabilities," the company wrote in an announcement that says Sonantic's dynamic AI platform uses text to create "compelling, nuanced, and stunningly realistic voices."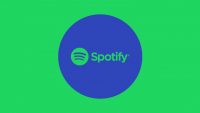 Sonantic was founded in 2018 (the year Spotify went public) by Zeena Qureshi to create AI voices for games and entertainment.
According to TechCrunch, "its technology helped bring Val Kilmer's voice to life in 'Top Gun: Maverick.'" The 62-year-old actor — who co-starred in 1986's "Top Gun" — as a result of throat cancer "is unable to speak," TechCrunch writes, explaining that "for the sequel where he reprised his role as a foil (and now friend) to Tom Cruise, his condition, and the simulated voice Sonantic created, were both written into the plot of the film."
Although financial terms of the purchase were not disclosed, TechCrunch reports that since formation "Sonantic had raised less than $3 million in funding from an interesting group of investors that included EQT Ventures, Entrepreneur First, AME Cloud Ventures, Bart Swanson of Horizons Ventures," and others.
TechCrunch says Sonantic "had 10 R&D partnerships in place with AAA gaming studios, and it is a regular presence at events like GDC," quoting a spokesperson for the company as saying it will be "business as usual" for existing customers.
Beyond that, TechCrunch notes that "AI being built to simulate voices is a very interesting piece of tech for a company like Spotify that could potentially have lots of other applications" in podcasting, music production, and for "entirely new kinds of interactions."
Topics:
AME Cloud Ventures
,
Artificial Intelligence
,
Audio
,
Bart Swanson
,
Entrepreneur First
,
EQT Ventures
,
GDC
,
Horizons Ventures
,
London
,
Music
,
Paramount
,
Podcasting
,
Sonantic
,
Spotify
,
Streaming
,
Tom Cruise
,
Top Gun: Maverick
,
Val Kilmer
,
Video Games
,
Voice Simulation
,
Zeena Qureshi
,
Ziad Sultan