Seoul-based startup Coupang is South Korea's version of Amazon and the country's biggest e-commerce retailer. Its IPO last week raised $4.6 billion and valued the company at about $85 billion, while its share offering price of $35 rose 41 percent to close the day at $49.25. Although Coupang plans to expand, it will soon face competition from South Korean family-owned conglomerates, called chaebol, which are building their own delivery networks. Another looming problem for Coupang are accusations of poor labor practices.
The New York Times reports that many South Korean consumers associate online shopping with Coupang. Shopper Kim Su-kyeong noted that, "there are so many other online shopping options available here fiercely competing with each other, and some of them can be as fast as Coupang or cheaper." "But Coupang has branded itself so well it's the name that first comes to my mind when I think of shopping online," she added.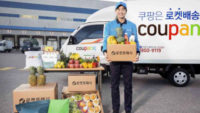 NYT notes that, "Coupang's rapid growth was driven by a combination of daring entrepreneurship and branding."
Korean-American businessman Bom Suk Kim, who founded the company in 2010, spent "heavily on infrastructure to limit the inconveniences that typically come with online orders and returns." With membership in its Rocket Wow program, customers "can return a Coupang product by leaving it outside their door, without a box or return label." "It's not just free — it's a stress-free experience," said Kim.
Coupang full-time drivers, also called Coupang Friends, "wear bright uniforms and cruise around in branded, company-issued vehicles." The company name is a meld of "coupon" and "pang," the sound in Korean for hitting the jackpot.
Jangan University professor of distribution management Ju Yoon-hwang stated that the company "has grown fast by meeting two most important needs of customers: cheap prices and fast delivery," while also offering more goods than its rivals.
With its densely populated cities, ubiquitous high-speed Internet and tradition of relying on delivery services, South Korea is on track to be the third largest e-commerce market, behind China and the U.S. and, according to Euromonitor International, "its volume, valued at $128 billion last year, is expected to reach $206 billion by 2024."
Although Coupang's revenues "almost doubled last year, to $12 billion … its huge investments in its logistics network, made possible by the funding from foreign investors like Japan's SoftBank and its Vision Fund, have kept it in the red." In 2018, its annual net loss rose to $1 billion before dropping to $475 million in 2020.
The company has "not offered any timeline of when it might make a profit," but Kim has said it "will continue to be in a position to be self-funding" and "aggressive with reinvestments." It unveiled a new meal-delivery service, Coupang Eats and video streaming app Coupang Play, but it "doesn't have other businesses, like cloud computing, that can easily generate the cash needed for big expansions." Further, rivals Lotte, Shinsegae and Naver are amping up their own e-commerce businesses.
Topics:
Amazon
,
Bom Suk Kim
,
Branding
,
China
,
Coupang
,
Coupang Eats
,
Coupang Friends
,
Coupang Play
,
Delivery
,
E-Commerce
,
Euromonitor International
,
IPO
,
Jangan University
,
Japan
,
Ju Yoon-hwang
,
Lotte
,
Naver Corporation
,
Retail
,
Rocket Wow
,
Shinsegae
,
Shipping
,
SoftBank
,
South Korea
,
Streaming
,
Video