Samsung disclosed details this week regarding its planned Silicon Valley innovation center, which will help build partnerships between entrepreneurs and the company's nine product divisions to develop new product ideas. The center is also expected to encourage expansion of the company's mergers and acquisitions strategy by determining which companies and emerging technologies can help fill existing product gaps.
"The South Korean tech giant is making a big push to expand its Silicon Valley footprint on several fronts," reports the Los Angeles Times. "One effort previously announced was a Samsung Strategy and Innovation Center, or SSIC, located on the valley's famed Sand Hill Road, the epicenter of the region's venture capital industry."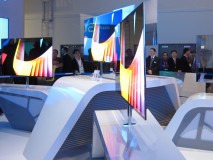 According to Young Sohn, Samsung's president and chief strategy officer, the Silicon Valley facility will help the company navigate the uncertainty of a post-PC era.
"That's an opportunity for Samsung," Sohn said. "And that's an opportunity for entrepreneurs."
"Sohn said SSIC will have its headquarters in Menlo Park, but will eventually establish other offices in other global innovation hot spots," explains the article. "The SSIC will invite a number of fellows to join the center to conduct research there, as well as mentor and reach out to Silicon Valley entrepreneurs."
Additionally, Samsung is launching a $100-million Samsung Catalyst Fund intended for new investments.
"Sohn said that will complement Samsung's $1 billion corporate venture fund, which he said has also been ramping up investment in the U.S., though he declined to say by how much," notes the article. "In general, Sohn said about 80 percent of the larger corporate venture fund has historically been invested in other companies in the U.S., and that Samsung is one of the three largest corporate venture investors in the world."
"We think venture capital is not doing all of what we're looking to see in early stage," Sohn said. "There is a hunger for supporting entrepreneurs, academics and artists so they can get their wind behind them. We want to make sure we help that process."