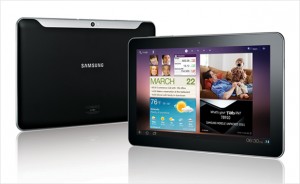 Engadget reports that Samsung Semiconductor has revealed plans to drastically increase the pixel density of the company's tablets. Samsung projects that it will have tablet PC displays with 300 to 400 pixel-per-inch (ppi) resolutions as early as 2015.
Samsung's current Galaxy Tab has a seven-inch, 1024 x 600 panel (about 170ppi), but the company suggests that similarly sized tablets may go beyond 1080p as pixel density increases (while still maintaining 8-10 hours of battery life). Samsung also said it would consider a glasses-free tablet display, based on consumer adoption of stereoscopic 3D.
The iPad 2 was originally expected to come with a Retina Display like the iPhone 4 screen from LG, but it didn't happen. Rumors have already begun circulating about a Retina Display for the iPad 3 if the cost remains competitive.
As tablets go well beyond 1080p resolution, what will that mean for content producers?