Royole is demonstrating a new foldable headset at CES in las Vegas this week that is designed to make movie-watching and gaming an immersive experience. The AMOLED display in the visor is only .01mm thick, so it is flexible enough to make this headset less clunky. The $699 Royole-X headset does not feature a field of view as wide as most VR headsets, but the 3,300 PPI display reportedly makes the image crisp enough to feel like a movie theater. It also comes with noise-canceling headphones.
The Royole-X has the advantage of including a wide range of content already. The headset has a separate control box that can store 64GB of media. It also has Wi-Fi sharing capabilities, wireless streaming, an HDMI port and a USB port. Basically, any media that can be pulled up with a computer, smartphone, set-top or game console can be viewed in the Royole-X.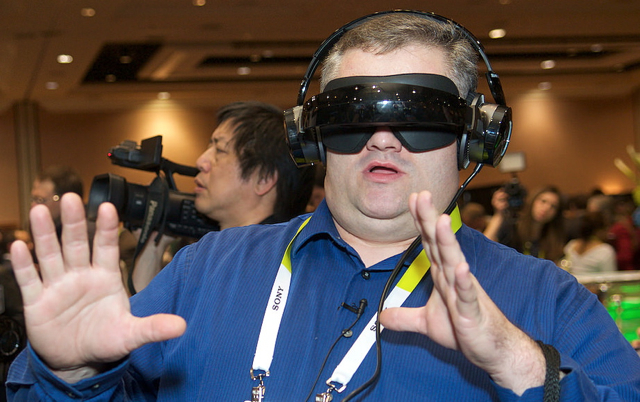 Thanks to several different controls, the user can adjust the headset to personalize the viewing experience. There are dials on the bottom of the headset to help control the focus and interpupillary distance, so that the image appears sharp. The touchwheel on the side of the headphones controls the media and ambient lighting inside the headset.
The reviewer writing for Engadget found the immersive experience enjoyable. The padding was comfortable, the image quality was good, and the noise-canceling headphones exceeded expectations. The headphones can reduce noise by 22dB. Despite its billing as the "world's first foldable audio and video headset," the reviewer still found the hardware bulky, especially with the external controllers and accessories.
Topics:
AMOLED
,
CES 2016
,
CTA
,
Display
,
Field of View
,
Focus
,
Foldable
,
Gaming
,
HDMI
,
Headphones
,
Headset
,
Image Quality
,
Immersive Experience
,
Las Vegas
,
Mobile
,
Personal Theater Headset
,
Royole
,
Royole-X
,
Screen
,
Smartphone
,
STB
,
Streaming
,
USB
,
Video
,
Wi-Fi
,
Wireless Streaming