Online quiz startup Qzzr allows users to create as many quizzes as they want for free. The service helps websites drive social traffic by uploading quizzes to their webpages. The pro version also helps companies capture leads and present special offers. Sites such as BuzzFeed and Zimbio have seen a burst in views due to these quizzes. Qzzr officially launched last week with $2 million in seed money and partnerships with ESPN, Yahoo, Mashable, Reddit, College Humor, and others.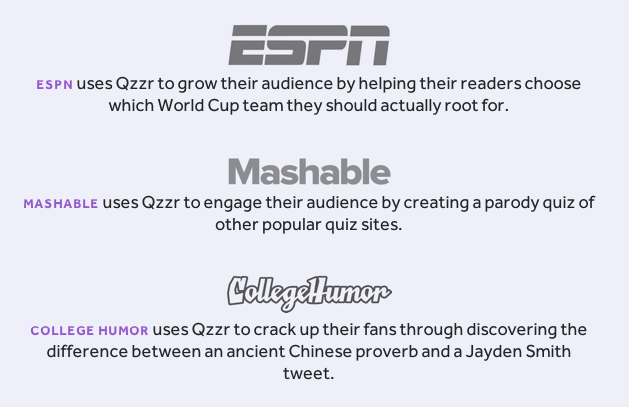 Kickstart Seed Fund led the investments, with help from Pelion Venture Partners, Peterson Partners, RPM Ventures and angel investors.
"The free plan lets site managers create an unlimited amount of quizzes but it is limited in the data collected such as lead captures and click-thru offers," reports TechCrunch. "The pro version starts at $19 a month and goes up to $499 a month for the enterprise rate."
Qzzr has seen a 330 percent month-over-month growth rate. So far, over 20,000 quizzes have been created, with the site receiving millions of daily views.
"We've been able to quickly help millions of people learn more about their favorite topics, including everyone's favorite — themselves," says Josh Little, creator of Qzzr.
Last year's most viewed online story for The New York Times was a quiz about the way people talk. Additionally, the addition of quizzes to the BuzzFeed homepage led to a visitor peak of 130 million views, a 350 percent year-over-year increase.