With the recent growth in citizen journalism via the Internet, questions have arisen regarding the authenticity of photographs, and whether there are ways to verify if an image is accurate or not. The rise of Photoshop and other digital tools has made it easy for people to edit images prior to sharing them on Facebook or Twitter. However, a computer science professor at Dartmouth College has developed a free online image verification service that quickly confirms whether an image is authentic or not.
Izitru (pronounced: "is it true") allows users to upload images that they are skeptical of, and puts the images through six forensic tests to create a "trust rating" in return.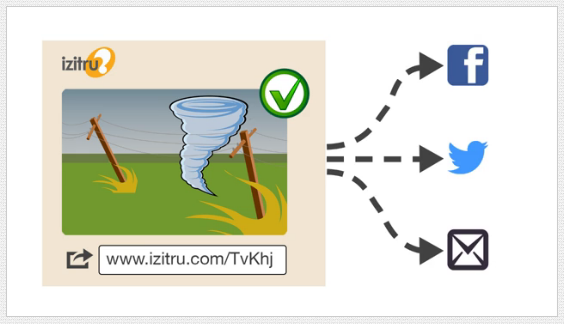 "The tests can help determine whether an image is a camera original or if it has been altered in some way from the initial time of recording," reports The New York Times.
Izitru's creator, Dr. Hany Farid, said the company also created numerous versions of the application that can be integrated into other websites and services. "This service tells you whether the image you're looking at is most likely an original," said Farid.
Although Dr. Farid intended the service to be used by citizen journalists to verify whether a source is accurate or not, Izitru has great potential beyond that.
Insurance companies could verify that claimants' accident photos are real, and could use Izitru in their online claim forms. Internet auction businesses such as eBay, could use the service to add credibility to the images of items offered for sale.
"Nobody would deny there is a need to authenticate photos," said Dr. Farid. "More and more photojournalists are putting images out there. This is a way of getting people into the habit of bypassing the doubt."
Topics:
Accident
,
Accurate
,
Alter
,
App
,
Auction
,
Business
,
Citizen
,
Claim
,
College
,
Computer
,
Confirm
,
Create
,
Credibility
,
Dartmouth
,
debate
,
Distort
,
eBay
,
False
,
Farid
,
Forensic
,
Form
,
Free
,
Image
,
Insurance
,
Integrate
,
Internet
,
Item
,
Izitru
,
Journalism
,
Online
,
Photo
,
Photograph
,
Photoshop
,
Potential
,
Professor
,
Prove
,
Rating
,
Sale
,
Science
,
Skeptical
,
Source
,
Test
,
True
,
Trust
,
Upload
,
Verification
,
Verify
,
Website