According to the Obama administration and the Federal Communications Commission, customers should be able to switch cellular carriers and keep their own phones while doing so. With that support, it could soon be easier for consumers to take advantage of lower rates from competing carriers once the initial contract is fulfilled, and could also mean more price competition and added choices for cellphone users.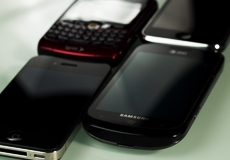 "The administration and the FCC, under Julius Genachowski, announced that they will urge Congress to overturn a ruling last year by the Copyright Office of the Library of Congress that made it illegal for consumers to unlock their cellphones, opening the software that restricts most phones from working on another carrier's network," reports The New York Times.
The government's response was prompted by an online petition, in which more than 100,000 signatures were gathered in one month. "If you have paid for a mobile device, and aren't bound by a service agreement or other obligation, you should be able to use it on another network," wrote R. David Edelman, a senior White House adviser for Internet, innovation and policy in a White House blog post, calling it "common sense."
If no change occurs, the potential punishment under the Digital Millennium Copyright Act is severe: a $500,000 fine and five years in prison. But according to AT&T, this is all much ado about nothing. "We'll unlock your device if you've fulfilled the terms of your service agreement," the company said in a statement, adding: "…if you bring an unlocked device that will work on our network, we'll sell you a SIM card and service."
NYT points out that a significant issue involves "whether a cellphone designed to operate on one company's network will operate on another company's system," as U.S. carriers don't all run on the same network. While wireless carriers are saying this is not a big deal, mobile phone users are concerned.
It's important to note that "the ban on unlocking a cellphone became an issue with the passage in 1998 of the copyright act, which among other provisions makes it illegal to circumvent digital protection technology. Unlocking a phone requires altering the software that restricts use of the phone to a certain carrier's network, and runs afoul of the act," explains the article.
"But until recently, the copyright office had granted an exemption for mobile phones, subject to review every few years. Last year, however, the copyright office did not renew the exemption, prompting protests from the tech community."