Paramount Studios is using two October releases to test a shorter window than the traditional 90-day window between theatrical release and home video. "Paranormal Activity: The Ghost Dimension," which opens on October 23, and "Scouts Guide to the Zombie Apocalypse," which opens a week later, will go to home video about two weeks after their screen count falls below 300 locations. Paramount offered participating theater chains a percentage of digital revenue; AMC Entertainment and Canada's Cineplex have signed on.
The Wall Street Journal notes that, "most of the country's major exhibitors shunned the deal," which include Regal Entertainment Group, Cinemark and Carmike Cinemas.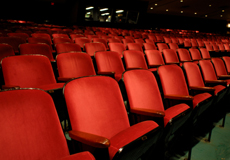 Paramount will open "The Ghost Dimension" in approximately 1,350 locations, compared to 2,900 locations for the last "Paranormal Activity" and 3,400 locations for "Paranormal Activity 4" in 2012. The studio expects an opening between $10 million and $12 million, compared to the last "Paranormal," which opened to $18.3 million.
The theater chains that declined to show the movies also won't show the trailers. Paramount is working around that by adding text to local advertisements listing other theaters where the movie is being shown. A handful of U.S. locations, such as Hawaii and Las Vegas and Baltimore, that might usually have 20 locations showing "Paranormal" now have between three and five.
Paramount vice chairman Rob Moore says the studio is looking at two metrics to determine if the new plan is successful: per-screen averages in theaters that also played the last "Paranormal" and whether there is a difference in digital revenue from making the movies available sooner.
Given the track record of the past "Paranormal" movies, the screen count should fall below 300 locations in about five weeks. Both movies appeal to younger audiences that "tend to see movies soon after they open or not at all."
Even if Paramount declares the experiment a success and does use it "for most future movies," most popular movies won't be impacted because they will take many weeks to fall below the 300-screen mark.
Topics:
Advertising
,
AMC Entertainment
,
Baltimore
,
Canada
,
Carmike CInemas
,
Cinemark
,
Cineplex
,
Digital Revenue
,
Exhibition
,
Hawaii
,
Home Video
,
Las Vegas
,
Movies
,
Paramount
,
Paranormal Activity
,
Paranormal Activity 4
,
Paranormal Activity: The Ghost Dimension
,
Regal Entertainment Group
,
Rob Moore
,
Scout's Guide to the Zombie Apocalypse
,
Theatrical Release
,
Trailers