In January, small press publisher Andy Hunter started an independent online book platform as an alternative to Amazon. His idea was that even if he captured a tiny fraction of Amazon's sales, he could be successful. In fact, he told prospective investors that he could reach $30 million in annual sales in a mere two years, a figure that seemed fanciful at the time. But when COVID-19 struck, hundreds of other bookstore owners joined his site, and Bookshop is on track to reap over $40 million in sales this year.
The New York Times reports that Bookshop sold about "$4.5 million of books in May, and more than $7 million in the first two weeks of June." The 750+ bookstores now listing through Bookshop have reaped $3.6+ million so far. Hunter now plans a U.K. operation by partnering with book wholesaler Gardners.
"There were a number of skeptics about whether this would work," said Politics and Prose co-owner Bradley Graham. "Bookshop has certainly worked better than anybody anticipated, because nobody anticipated a pandemic." Amazon still accounts for "some 70 percent of online book sales."
On Bookshop, shoppers can buy directly from specific stores or straight from Bookshop, with orders fulfilled through Ingram. Bookstores "get 30 percent of the list price — less than they would typically make from a direct sale — but don't have to pay for inventory or shipping."
Bookshop "doesn't profit from the sales that go through particular stores," but rather makes its money "through its direct sales and from affiliate sales, when media organizations, book clubs and social media sites feature links to Bookshop in book reviews or other coverage."
Ten percent of the list price of books sold directly by Bookshop, or through media affiliates, "goes into a profit pool that gets distributed to independent bookstores." The pool, so far, has amassed about $1 million.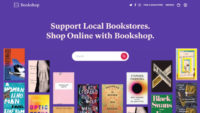 Skeptical booksellers are worried Bookshop will become "another large centralized competitor." "There's a significant danger to people thinking that this is saving bookstores," said East Bay Booksellers owner Brad Johnson, who said he will likely drop off Bookshop. "If people have any idea that they want to help bookstores, they should order directly from bookstores."
Hunter responded that, "if we ever felt we were damaging indie bookstore sales in any way, we would change course." Among the site's 8,000 affiliates are The New York Times, The New York Review of Books, BuzzFeed and New York magazine IndieBound, "which runs a similar affiliate sales program [and] is merging its operation with Bookshop's."
The U.S. Commerce Department revealed that, in April, "bookstore sales plummeted to $219 million, a decline of more than 65 percent from April 2019." According to the American Booksellers Association, which has 1,880 bookstore members, about 40 percent of its membership is now using Bookshop.
The Codex Group conducted a survey of 4,000+ people who frequent indie bookstores and found that only 21 percent of them had heard of Bookshop, indicating it has room to grow. "If it's sticky and it lasts beyond this COVID crisis, it's going to really help bookstores thrive," said Hunter.
Related:
As Bookshop Booms, Questions Arise, Publishers Weekly, 4/24/20
Coronavirus Shutdowns Weigh on Book Sales, The New York Times, 5/19/20
Topics:
ABA
,
Amazon
,
American Booksellers Association
,
Andy Hunter
,
Bookshop
,
Brad Johnson
,
Bradley Graham
,
BuzzFeed
,
Codex Group
,
Commerce Department
,
Coronavirus
,
COVID-19
,
East Bay Booksellers
,
Gardners
,
Independent Bookstores
,
IndieBound
,
Ingram
,
Politics and Prose
,
The New York Review of Books
,
The New York Times