Google will release an open API for the Google Now dashboard/personal assistant, which will allow developers to integrate their apps into the service. Android users might one day be able to get all of the relevant information from Google Now without ever having to open the apps. Currently, Google Now only pulls notifications from Google-based apps like Maps and Search, but another 40 third-party apps are in a pilot program to integrate their apps with Google Now.
The improved Google Now will be able to provide Android users with notifications, or cards, from their own personal array of apps. Perhaps people who frequent Kayak or Airbnb will be able to receive notifications on travel deals. Moviegoers could get ticket codes from Fandango and shoppers could get location-based rewards from Walgreens.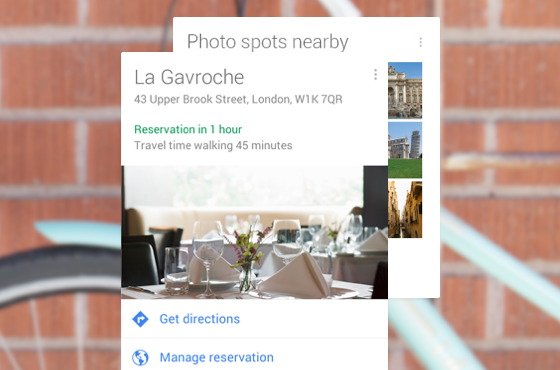 Google Now could make Android the ultimate smart device because this one service will know everything from sports teams' scores to nearby restaurants to theme park wait times.
For users worried that they will be overwhelmed with information, Google Now will also be easily curated. Users can swipe away cards that don't interest them, or they can block cards from specific apps. Google Now will learn the user's patterns and eventually build a personalized stream of information.
"If it gets the mix right, it's not hard to imagine an experience where Google Now works so well with apps that it eliminates the need to open them altogether," Wired speculates. Instead of checking separate apps, everything would be available in one streamlined location.
Google currently tailors Google Now based on thousands of surveys. An app would ask the survey participants what they would find useful at several different times during the day. According to The Next Web, "The focus for the Google Now team over the next few six-to-twelve months is to marry Google's understanding of the world with personal circumstances."
Topics:
Airbnb
,
Android
,
API
,
Apps
,
Cards
,
Curated
,
Dashboard
,
Developers
,
Fandango
,
Google
,
Google Maps
,
Google Now
,
Google Search
,
Kayak
,
Notifications
,
Personal Assistant
,
Pilot Program
,
Restaurants
,
Rewards
,
Sports
,
Surveys
,
Travel Deals
,
Wait Times
,
Walgreens