Netflix has taken another big step forward in offering premium content, following its announcement that it will have exclusive rights to stream 26 episodes of the original series "House of Cards" starting in late 2012. The Internet streaming service outbid cable channels such as HBO and AMC. "House of Cards" is a political drama based on the 1990 BBC miniseries of the same name. The new production will star Kevin Spacey; David Fincher is tapped to direct.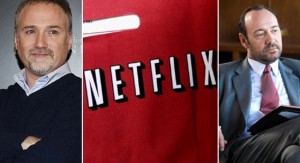 The deal is a big move for Netflix, which traditionally only airs previously produced and aired content. For the first time the company is licensing content before it is successfully produced. "Typically, we license TV shows the season after they run on a broadcast network or cable channel, and occasionally we have episodes from a current season, as is the case with 'Saturday Night Live' from NBC, 'Spartacus' from Starzplay and 'Wizards of Waverly Place' from Disney Channel," Chief Content Officer Ted Sarandos wrote on the Netflix blog. "In all of these cases, the shows are produced before we bring them to Netflix. 'House of Cards' represents a slightly more risky approach."
According to Ars Technica, Netflix currently delivers 61 percent of all digital video content to U.S. viewers. However, it should be noted that Amazon has tossed its hat into the ring with an instant video service that undercuts the Netflix streaming subscription by approximately $16 per year.
Related Wall Street Journal article (subscription required): "Web Shows Get Ambitious — Tech, Media Companies Race to Create Video Hits that Look, Feel More Like TV" (3/21/11)
Related Business Insider article: "Exclusive Interview with Netflix CEO Reed Hastings — Netflix's Market Opportunity Is a Lot Bigger Than You Think" (4/4/11)
Related Ars Technica article: "Amazon Takes on Netflix with move streaming service for Prime" (3/11)