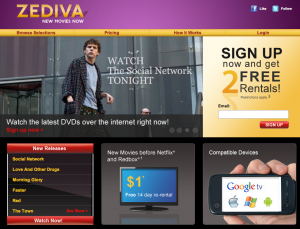 David Pogue of the New York Times writes that we are in a fascinating transitional period from physical media to streaming services, but that accessing streaming movies from our TVs, laptops and phones comes with a price. For example, we are missing some of the DVD features including subtitles, multiple languages and director's commentary. We are also restricted regarding when we have access to some streaming content and how long our subscription or per-title fee allows us to view a specific title.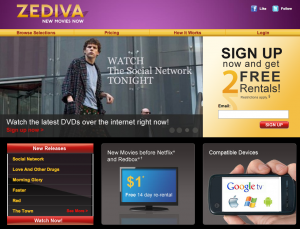 In response to these concerns, Pogue mentions a new streaming service named Zediva.com that provides subtitle, language and commentary options in addition to some surprising (and perhaps disturbing, for the content creators and distributors) business model features. Rented movies are available for two weeks instead of 24 hours, current titles are available the same day as DVD releases, and there are no hardware or subscription fees — simply a rental charge of $2 per movie.
The process is simple. Zediva has set up hundreds of DVD players in its California data center; the company purchases dozens of copies of current releases and makes them available to consumers. As Pogue writes: "The DVD is simply sending you the audio and video signals, as if it were connected to your home with a really, really long cable."
Of course, content creators and distributors may have issue with this approach. In related news, the MPAA has filed a lawsuit against Zediva (since Pogue's article), claiming that the company is violating copyright law by streaming DVDs. While the company bills itself as a movie-rental service, comparing its service with companies like Netflix that purchase hundreds of copies of popular movies and then mailing them to renters, the MPAA's lawyers argue the service is a form of "public performance" that would require a license.
Related Wall Street Journal article: "Hollywood Studios Sue Start-Up Zediva" (4/4/11)