On Tuesday, Microsoft exec Panos Panay unveiled the Surface Pro 3, calling it a potential successor for laptop PCs. The device is not only lighter and thinner than previous versions of Surface tablet computers, but it is also larger. While previous versions measure at 10.6-inches diagonally, the Pro 3 screen measures 12-inches. Along with other Surface tablets, the Pro 3 is powered by Intel chips. Rather than comparing the tablet to others on the market, Panay discussed Apple's MacBook Air as a competitor.
The Surface Pro 3 without a keyboard will range between $799 and $1,949, while a multi-purpose keyboard and cover will cost an additional $130.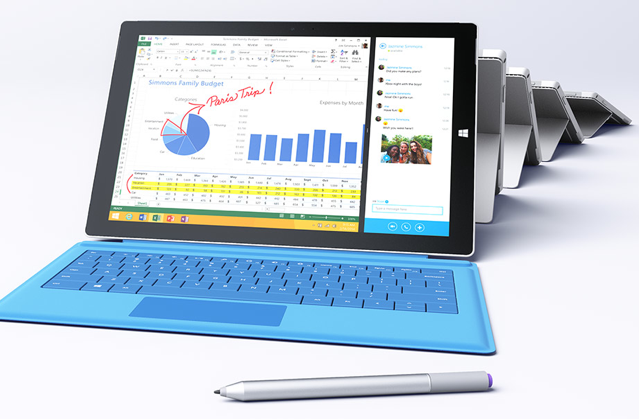 "Microsoft Chief Executive Satya Nadella and other officials stressed what they said were limits of existing tablet computers for activities like writing documents or other work that isn't Web surfing or reading digital books," reports The Wall Street Journal. "They also stressed drawing and note-taking with an upgraded digital-pen accessory that comes with the Surface Pro 3."
Research firm IDC confirmed that last year Microsoft's share of the tablet market was less than 4 percent. While it currently incurs a loss on each Surface sold, Microsoft hopes to increase its share with the introduction of the Surface Pro 3.
"We are not building hardware for hardware's sake," Nadella said at Tuesday's event. "We want to build experiences that bring together all the capabilities of our company."
Nadella promoted the device as the best display for Microsoft software, including Office, Skype and OneDrive, while emphasizing limits of existing tablets for activities other than Internet use or reading.
According to CNBC, Microsoft hopes the ability of the device to run the entire Windows operating system will draw consumers and companies to replace laptops with the Surface Pro 3.
Topics:
Air
,
Apple
,
Book
,
CNBC
,
Computer
,
Computing
,
Cost
,
Device
,
Display
,
Draw
,
Hardware
,
IDC
,
Intel
,
Internet
,
Journal
,
Keyboard
,
Laptop
,
Launch
,
MacBook
,
Microsoft
,
Mobile
,
Nadella
,
Office
,
OneDrive
,
Online
,
Panay
,
PC
,
PEN
,
Personal
,
Pro
,
Pro 3
,
Reading
,
Research
,
Screen
,
Share
,
Skype
,
Software
,
Surface
,
Surfing
,
System
,
Tablet
,
Unveil
,
Wall Street
,
Web
,
Windows