Microsoft Band is a new wrist-worn device that works with an online service called Microsoft Health. The service will analyze personal health and exercise data collected by the band and other devices. The display on the black rubber bracelet will show text messages from a cell phone, Facebook alerts, and barcodes that allow people to pay for things with a swipe of their wrist. The device will track heart rate, sleep quality, and calories burned using optical sensors rather than less accurate audio sensors.
It will also include GPS satellite tracking to better monitor movement. This means athletes that want to track their distance only need to wear the device rather than bringing a cell phone as well.
For outdoor athletes and everyday purposes, it also features a UV sensor for tracking exposure to sunlight.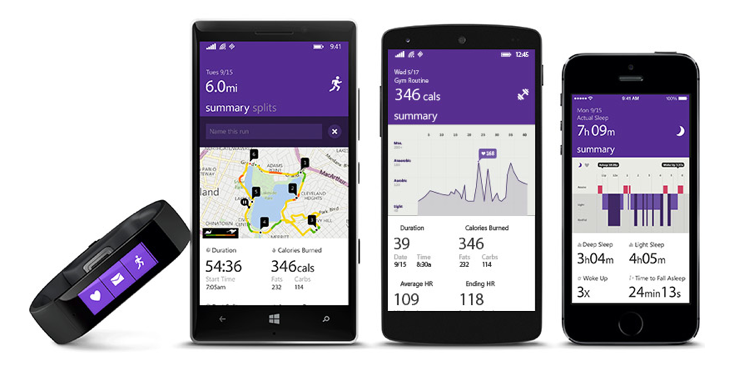 The device is integrated with Twitter, Facebook, calendar, weather, and stock trading. Microsoft will share data with Jawbone, MapMyFitness, and RunKeeper, along with other services.
"The Microsoft Health app, which will wirelessly collect data from the company's fitness band, will work on Apple and Android smartphones, along with Microsoft's own Windows Phone," reports The New York Times.
The device comes in three different sizes for $199, cheaper than many other wearable GPS devices.
Topics:
Android
,
Apple
,
Band
,
Calendar
,
Calories
,
Exercise Data
,
Facebook
,
Facebook Alerts
,
Fitness
,
GPS
,
Health
,
Jawbone
,
MapMyFitness
,
Microsoft
,
Microsoft Band
,
Microsoft Health
,
Optical Sensors
,
RunKeeper
,
Satellite Tracking
,
Sleep Quality
,
Smartphone
,
Smartwatch
,
Stock Trading
,
Text Message
,
Twitter
,
Wearable
,
Weather
,
Windows