Oakland, Portland, San Francisco and Minneapolis have banned police use of facial recognition, mainly due to its inherent racial bias. Massachusetts is now the first U.S. state to legislate its use. The law, which goes into effect in July, has found a middle ground, both allowing law enforcement to use the facial recognition technology to catch criminals and building in protections intended to prevent false arrests. With the new law, police must get a judge's permission to run a facial recognition search.
The New York Times reports that, even with a judge's permission, "someone from the state police, the FBI or the Registry of Motor Vehicles [is required to] perform the search." In other words, "a local officer can't just download a facial recognition app and do a search." The law goes further in creating "a commission to study facial recognition policies and make recommendations, such as whether a criminal defendant should be told that they were identified using the technology."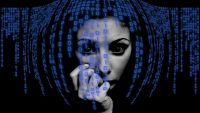 Activist Kade Crockford, who was the guiding force behind the new law, and the ACLU of Massachusetts began their campaign against facial recognition in June 2019, "educating policymakers about problems with the technology and investigating, via public records requests, how widely it was used in the state."
After making 400 such requests to state and federal agencies, the ACLU "found that police regularly used the technology to identify people, usually by running their faces against the state database of driver's license photos." A September 2015 memo from a state police officer provided local, state and federal law enforcement agencies with a Registry of Motor Vehicles email for searches.
Crockford noted, "there was no mention of any policy or legal analysis or legal threshold that law enforcement would have to meet for one of these searches to be performed." Numerous officers also signed up for trial accounts with Clearview AI, which searches billions of Internet photos.
Somerville, just outside Boston, was the first city to ban it in the state and the second in the U.S. after San Francisco. Somerville City Council member Ben Ewen-Campen stated that, "we want an opt-in dynamic where if society decides they want it, they can have it." By 2020, Boston and five other cities joined the ban. State representative Dave Rogers, who helped craft the new bill, stated that, "we saw that law enforcement was using it in a completely unfettered way."
"Technology in our society is advancing much more rapidly than the law that regulates it," he added.
The terms of the draft law banned "almost all" government agencies from using facial recognition except the Registry of Motor Vehicles, "which uses it to prevent identity theft." Otherwise, any agency required a warrant to ask for a search. Massachusetts governor Charlie Baker threatened to veto it. A letter from NBA player Jaylen Brown and his Celtics teammates decried the technology's built-in racial bias.
The new law is the result of compromise. Crockford noted that it was "politically impossible" to ban the use of facial recognition in the state … [but] that additional guidelines will help prevent abuse and false arrests."
Related:
Judge Approves $650 Million Facebook Privacy Settlement Over Facial Recognition Feature, The Verge, 2/27/21