Memory chip prices have plummeted this past year, with continued declines expected through Q2. The painful supply chain shortages of 2020 have been replaced, in many instances, by inventory gluts, with some chipmakers talking about scaling back expansion plans. The average price for memory chips used in consumer electronics — from TV sets to smartphones and personal computers — are expected to dip by double-digits in Q1, analysts say. In 2022, prices declined by 20 percent starting in Q2. TrendForce predicts inflation and high interest rates will continue to suppress corporate and consumer spending on electronic devices, including data servers.
Samsung, Micron, SK Hynix, Western Digital and Kioxia are among those suffering. Samsung Electronics is the world's largest producer of memory chips. On Tuesday the company said operating profit fell 69 percent year-over-year for the October-to-December period.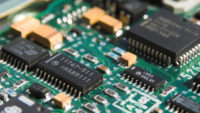 SK Hynix is expected to report a $661 million Q4 loss this week, according to The Wall Street Journal, which said "companies making other types of semiconductors are also caught up in the downturn" with Intel logging a Q4 loss and issuing guidance indicating "poor market conditions would persist through the first half of the year."
Memory prices hit a peak during the initial phase of the COVID-19 pandemic, when lockdowns spurred strong demand for tech products, and began slumping in late 2021. "Quarter-on-quarter declines got steeper through the second half of last year, as macroeconomic woes and rising interest rates collided with geopolitical uncertainties due to the Russia-Ukraine war and China's COVID lockdowns," WSJ reports.
With demand still tepid, memory prices are expected to continue falling throughout the year, with Techspot describing it as a "freefall." But "the quarterly drops could narrow or flatten in the second half depending on how soon buyers come back," WSJ says.
The two main types of memory are DRAM and NAND flash, which in Q4 2022 saw contract prices dropped by roughly 23 percent and 28 percent, respectively, per TrendForce. DRAM allows devices to multitask, and NAND flash memory supplies storage capacity.
Prices of NAND flash could rebound more quickly than DRAM and improve in Q3 because "steeper price falls in recent months had prompted vendors to pursue more aggressive supply cutbacks for 2023," TrendForce senior VP Avril Wu told WSJ.
Samsung, which produces both, has consistently said it has no plans to constrict supply. On an October earnings call, Samsung semiconductor chief Jinman Han said the company was "not considering any artificial reduction in production for the sake of short-term, supply-demand rebalance."
Topics:
Avril Wu
,
China
,
Chip
,
Chipmaker
,
Computer
,
Consumer Electronics
,
COVID-19
,
DRAM
,
Inflation
,
Intel
,
Jinman Han
,
Kioxia
,
Memory Chip
,
Micron
,
NAND Flash
,
Pricing
,
Russia
,
Samsung
,
Semiconductor
,
Server
,
SK Hynix
,
Supply Chain
,
TrendForce
,
Ukraine
,
Western Digital