The FTX crash and ensuing fallout has fueled efforts by Congress and federal regulators to rein in the cryptocurrency business, which caused massive investment losses this past year. Senator Sherrod Brown (D-Ohio) and Congressman Patrick McHenry (R-North Carolina) are among those leading the charge to put consumer safeguards in place. McHenry in January became chair of the House Financial Services Committee. Legislators are also calling for robust enforcement of existing laws, which the crypto industry has been resisting. Senator Elizabeth Warren (D-Massachusetts) said Congress needs the resources "to be an effective cop on the beat."
In an interview with Politico, Warren said "there are a lot of regulatory tools out there already," adding, "we need regulators to use those tools." Since November 2021, the crypto industry has lost two-thirds of its value, resulting in panic, confusion and an eruption of civil lawsuits and bankruptcy proceedings.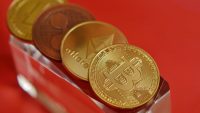 The chaos has vindicated early skeptics, like Warren and Securities and Exchange Commission chair Gary Gensler, "who have long warned that crypto businesses are defying basic rules that would protect retail investors and traders," Politico reports, noting that "for retail traders and customers — including those who were enticed into risky lending products with promises of secure and reliable investment returns — there is no safety net."
In the meantime, agents and attorneys are reportedly warning celebrity clients to avoid crypto endorsements. "Celebrities are facing civil lawsuits from investors who suffered losses on virtual assets, as well as scrutiny by regulators for allegedly duping the investing public," according to The Wall Street Journal, listing Madonna and Kim Kardashian among those who have lent their name to blockchain marketing.
The legal actions could help "clarify the ground rules for crypto promotions, as well as the hurdles investors must clear to hold promoters liable when investments go south," WSJ  writes.
"In traditional finance, there are means and mechanisms to wind down institutions. On the crypto asset side, because it grew so quickly — in a space that had a light touch regulation — you don't have the same kinds of well-established procedures," Clyde Group SVP John Rizzo, a former U.S. Treasury official, tells Politico, which notes that "some crypto businesses that have gone under-operated as banks, brokers, custodians and agents for their customers — a combination of services that doesn't exist at regulated financial institutions."
Celsius Network and Voyager Digital once lured customers by guaranteeing double-digit yields in exchange for crypto deposits and have since filed bankruptcy, along with FTX, whose marketing campaigns emphasized that "its exchange offered a safe venue for buying, selling and storing digital tokens," Politico writes.
Related:
UK Government Reveals 'Robust' Plans to Regulate Crypto, Engadget, 2/1/23
Fed Rejects Crypto Bank's Application to Join U.S. Payment System, MarketWatch, 1/28/23
Bitcoin Suisse Chairman Says EU Won't Ban Crypto, but It May Seek to Contain It, CoinDesk, 1/30/23
Millionaires Flock to Crypto: 82% Sought Investment Advice in 2022, Cointelegraph, 1/31/23
Crypto Ownership Surges, New JPMorgan Chase Research Reveals, JPMorgan Chase, 1/30/23
Elon Musk Is Trying to Build a Twitter Payments System – and Crypto May Be Part of It, MarketWatch, 1/30/23