Intel unveiled plans to invest an initial $19 billion to construct new leading-edge semiconductor fab mega-sites in Magdeburg, Germany; an R&D and design hub in France; and R&D, manufacturing and foundry facilities in Ireland, Italy, Poland and Spain. The plan could see as much as $88 billion invested "along the entire semiconductor value chain" in the EU over the decade, according to the Santa Clara-based chipmaker, which says it wants to introduce a next-generation chip ecosystem while offsetting reliance on Asia for a more "resilient supply chain."
"The EU Chips Act will empower private companies and governments to work together to drastically advance Europe's position in the semiconductor sector," boosting innovation and bring leading-edge manufacturing to the region "for the benefit of our customers and partners around the world," Intel CEO Pat Gelsinger said in an announcement.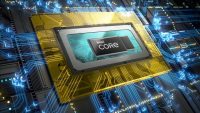 The European Commission in February advanced the European Chips Act, designating about $49 billion in public and private funding to nearly double the EU's share of global chip production to 20 percent by 2030.
As with the Biden administration's $52 billion CHIPS for America Act — which is stalled in reconciliation after passing the House last month and the Senate in June — the European Chips Act awaits final approval by EU lawmakers, although The Verge says it includes about $33 billion in investments previously announced by member states.
"Gelsinger has argued that government subsidies are crucial to bring the costs of building factories in line with costs of setting up plants in Asia," The New York Times reports. "He has lobbied officials in the United States and Europe about parallel subsidy packages that could include grants to set up chip factories, stating that government support may determine how far and how fast Intel expands in both regions."
Reuters writes that "Germany has come out as the big winner by cornering the bulk of Intel's investment," noting Gelsinger "declined to say the amount of state aid the company is getting from the country," but detailed "7,000 construction jobs, 3,000 permanent jobs" and "tens of thousands of additional jobs" across suppliers and partners.
Intel says it plans to build "two first-of-their-kind semiconductor fabs in Magdeburg," with construction scheduled to begin by mid-2023 and output expected to commence in 2027. The two fabs are expected to deliver chips using Intel's advanced, Angstrom-era transistor technologies, part of the company's IDM 2.0 strategy.
In January, Fortune reported that President Biden and Commerce Secretary Gina Raimondo cited the chip shortage as contributory to U.S. inflation, calling on Congress to finalize CHIPS, formally titled the Creating Helpful Incentives to Produce Semiconductors for America Act.
Related:
Intel Set to Get $5.5 Billion in German Subsidies for Plant, Bloomberg, 3/16/22