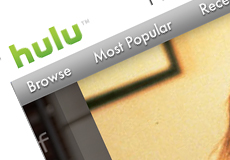 In its first international venture, Hulu is launching its subscription service in Japan where it will offer hundreds of premium feature films and thousands of TV shows for $19.19/month.
The service will be accessible via select connected TVs and smartphones (Engadget reports that Panasonic Blu-ray players, Sony Blu-ray players and TVs, Xbox 360 and PS3 consoles and Android tablets are relegated to the "coming soon" list.)
Content will be provided from CBS, NBCUniversal, Sony Pictures Entertainment, Twentieth Century Fox, The Walt Disney Company and Warner Bros. Additional local market content will be added including Japanese-produced and other Asian content.
Hulu is also announcing an exclusive mobile marketing partnership with NTT Docomo. Details will be forthcoming.
A follow-up post from GigaOM yesterday outlines the differences between Hulu's current U.S. offerings and its plans for the Japanese market, "that could give a hint at what Hulu might look like in the future." So is there a "no ads, higher fees and more content suppliers" future for Hulu outside of Japan? If so, watch out Netflix!