HTC opened its Viveport VR subscription service to developers, to allow them to register games and VR experiences in advance of the service's launch, expected in the next few weeks. Since the service was first announced at CES 2017, HTC has accumulated a list of more than 14,000 consumers who wish to be notified of the launch. HTC has not announced final pricing for the service but it reportedly will be similar to fees charged by Netflix and Spotify. The monthly fee will offer a limited number of games and experiences.
According to Variety, president Rikard Steiber says new and existing Vive headset owners will get a month of free access, and can "trade in" games or experiences to download a new one. Steiber sees subscriptions not as a proven business model but a way to expose VR games that "may otherwise get lost among the more than 1,000 titles already available for sale for the Vive headset."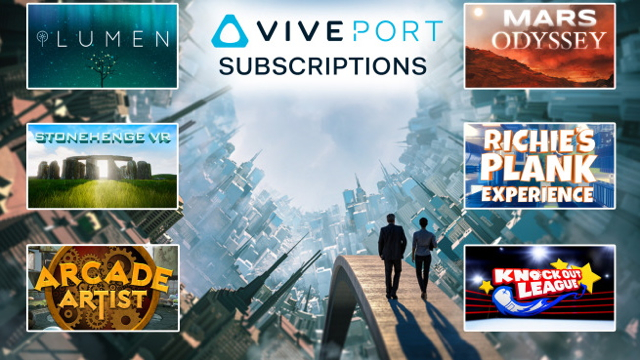 "We see it as a very important promotional tool," he said. HTC will take a 40 percent cut of the subscription revenue, with the rest going to developers. Among publishers already signed up are Time Inc. with the "Remember Pearl Harbor" VR experience and "Lumen," Steel Wool Studios with "Mars Odyssey" and Groove Jones with "Arcade Artist." More publishers are expected to sign up at the Game Developers Conference.
That could be important, as UploadVR reports that, "Vive co-creator Valve said that only 30 of 1,300 VR apps on Steam had made over $250,000," making other means of promoting and selling apps crucial for developers and publishers.
Digital Trends reports on the winners of HTC's first annual Viveport Developer Awards, another way for developers to showcase their apps and gain attention. The best app in four categories won $500,000 in award money; first prize was $50,000, second prize was $30,000, third prize was $15,000, and a special community's choice winner was worth $10,000. Winning entries and two runners-up also received an HTC Vive system.
First place winners were "Apollo 11 VR" from Immersive VR Education, "Fantastic Contraption" from Northway Games, "Cloudlands: VR Minigolf" from Futuretown, "Allumette" from Penrose Studios, and "A Chair in a Room: Greenwater" from Wolf & Wood Interactive.
Topics:
CES 2017
,
Developer
,
Futuretown
,
Game Developers Conference
,
Gaming
,
Groove Jones
,
HTC
,
HTC Vive
,
Immersive VR Education
,
Netflix
,
Northway Games
,
Penrose Studios
,
Rikard Steiber
,
Spotify
,
Steam
,
Steel Wool Studios
,
Subscription
,
Time Inc.
,
Virtual Reality
,
Viveport VR
,
Wolf & Wood Interactive