A new Web application named Hola is bypassing copyright laws to deliver content to users who otherwise don't have access to it. The app essentially unlocks international versions of Netflix so U.S. users can watch shows like "True Grit" or "Community" — only available overseas — whenever they want. By changing users' IP addresses and making their devices act as routers, content is never copied illegally. Since beta testing began, the app has become incredibly popular, and it could alter the way the Internet operates.
According to Business Insider, Hola isn't just being used by people in the U.S. looking for their favorite shows. It's also being widely used by people in other countries to access streaming services like Hulu, Spotify and Pandora that aren't available in many areas. Hola can also be used as a workaround for websites that are blocked in the workplace.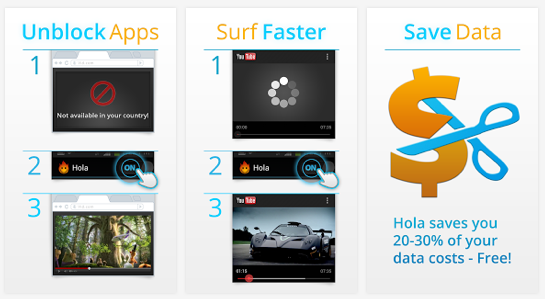 "For citizens living under repressive regimes such as Iran, China, and Saudi Arabia, Hola's potential is considerably more transformative," the article notes. "Once optimized, it will allow them to view sites like Facebook, Twitter, and Google, as well as Wikipedia, The New York Times and other news and information outlets that are otherwise blocked by their respective governments."
Mitch Stoltz, a staff attorney for the Electronic Frontier Foundation, explains to BI the legalities of Hola, saying that it makes an important distinction between streaming and copying. "If you're not making a copy or distributing copies, you're not infringing copyright," he says.
And with clever, careful technology, Hola isn't making copies anywhere. Instead, CEO Ofer Vilenski says, it "redirects your traffic through other peoples' devices in an encrypted and secure manner, and it creates multiple routes." Vilenski says there are about 10 connections "in parallel" delivering the information so it moves faster.
"Rather than making use of CDNs, the developers' scheme was to build an entirely new Internet running on top of the existing system — an 'overlay,' as they call it — by making use of the invisible reserves of technological firepower that have been quietly building up under our noses," BI reports.
And because Hola changes a device's IP address, it's therefore easier to stay away from the eyes of government surveillance. Most importantly, the article adds, it "renders the recent court decision striking down net neutrality rules essentially meaningless."
Topics:
App
,
CDN
,
China
,
Community
,
Content
,
Copyright
,
Court
,
Developer
,
EFF
,
Electronic
,
Facebook
,
Foundation
,
Frontier
,
Google
,
Government
,
Hola
,
Hulu
,
Illegal
,
Infringe
,
Infringement
,
International
,
IP
,
Iran
,
Law
,
Legal
,
Netflix
,
Neutrality
,
New York Times
,
Overlay
,
Pandora
,
regime
,
Router
,
Social
,
Spotify
,
Stoltz
,
Stream
,
Streaming
,
Surveillance
,
True Grit
,
Tweet
,
Twitter
,
Vilenski
,
Web
,
Wikipedia