Google and Amazon have struck a deal to end simmering hostilities over a battle for control of smart TVs. After a particularly damning report by the Competition Commission of India last week, Amazon announced that TCL — a major player in the drama — will this fall release in Europe two new models equipped with Amazon Fire TV software. The new pax has also paved the way for Amazon to work with consumer electronics companies including Hisense, Xiaomi, and more, who were previously forbidden from using the Amazon OS under Google's licensing terms.
The agreement may reduce some of the global regulatory pressure on Google and investigations into antitrust behavior associated with its Android OS. However, some experts remain skeptical that the deal "will address the overarching concerns with Google's operation and licensing of Android to third parties," Protocol reports.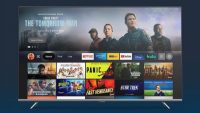 Google has yet to publicly comment on the deal, but Protocol writes that Amazon entertainment devices VP Daniel Rausch said at a press briefing for the new TCL models that "the report issued by Indian regulators 'and its findings speak for themselves.'"
The 293-page report suggests anticompetitive behavior by Google, according to Next TV, describing the company as "intimidating its Android partners from making devices, mostly smart TVs, powered by Amazon's Fire TV operating system."
The battle has raged on for years, according to Protocol, which says "Google imposes on hardware manufacturers that make Android-based phones, TVs, and other devices" a requirement that "in order to gain access to Google's officially sanctioned version of Android as well as the company's popular apps like Google Maps and YouTube, manufacturers have to sign a confidential document known as the Android Compatibility Commitment."
The ACC prohibits manufacturers from creating devices based on so-called "forked versions" of Android, i.e., not fully compliant with Google guidelines. Formerly known as the Anti-Fragmentation Agreement, the ACC has "long been an open secret in industry circles," according to Protocol, which says it drew particular attention in March of 2020 when the outlet reported that the policy effectively banned companies including TCL from incorporating operating systems other than Android.
"Google has been justifying these policies by pointing to the harmful consequences of Android fragmentation, positing that the rules assured developers and consumers that apps would run across all Android-based devices," writes Protocol, describing what sounds similar to Apple's argument for its App Store chokehold.
"At its source code, Fire TV is based on Android, and is thus defined as a forked iteration of the product," Next TV says, noting that "resolving this issue will have major benefits for Amazon at a time during which gateway OS control of the European streaming market is very much up for grabs."
Related:
Google and Amazon Reach an Agreement to Let Fire TV OS Thrive, Android Police, 10/28/22
Google Reportedly Strikes Deal That Allows Android Partners to Make Amazon Fire TVs, 9to5Google, 10/27/22
Amazon Says Fear of Google Putting Off Vendors from TV Hardware Partnership, TechCrunch, 10/21/22