Gogo recently announced it will add satellite to its ground-to-air service in the hopes of increasing speeds of its in-flight Internet networks. The satellite connectivity network will give more support for international flights, including Internet access while flying over the open ocean. The new service is called 2Ku, and plans to offer a 70Mbps downlink connection using a new high-gain antenna design. This is expected to make Gogo's in-flight service excel at twice the performance of its competitors.
Gogo's current ground-to-air network provides 3.1Mpbs of capacity. While the company plans to launch a hybrid ground-to-air and satellite connectivity network this year, in 2015 it will go all satellite. The new speeds will be fast enough to allow airlines to sell premium on-demand video to passengers.
During an aviation conference in Europe, Gogo demonstrated a 70Mbps downlink connection using the high-gain antenna design. Below is a Gogo image of the mechanically-steered satellite antenna rig.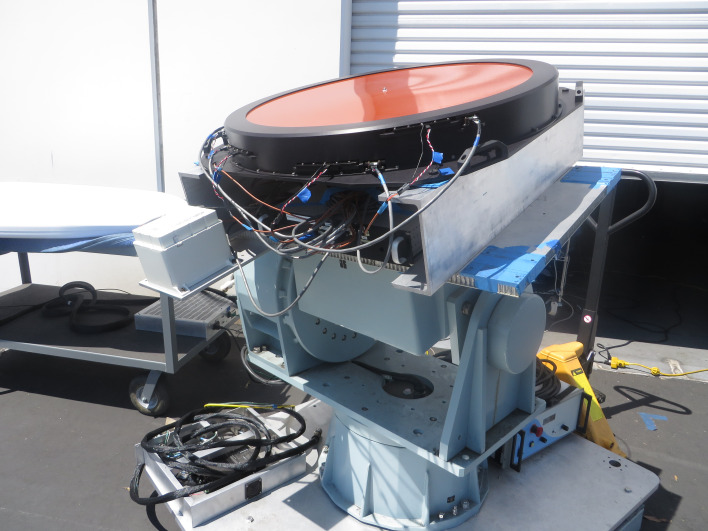 Japan Airlines is the first prospective customer of the new network, and other domestic and international airlines are looking into trial runs.
Even with the faster speed, Gogo's CTO Anand Chari, said that speeds will still not be comparable to the Internet access people receive in their homes.
Gogo will purchase capacity from satellite providers, SES and Intellisat, as needed. This means that if only a couple of passengers are using the network on a flight, Gogo can allocate only 10Mpbs to the flight. "Bandwidth, however, can be dynamically allocated Chari said, so if a bunch of passengers rush the network, it can boost that satellite link to 20, 30 or even the full 70Mpbs of capacity," reports GigaOM.
Topics:
Access
,
Announce
,
Antenna
,
Bandwidth
,
Boost
,
Capacity
,
Competitor
,
Connectivity
,
Customer
,
Design
,
Domestic
,
Downlink
,
FAST
,
Film
,
Flight
,
Flying
,
Gogo
,
Intellisat
,
International
,
Internet
,
Japan
,
Movie
,
Network
,
Ocean
,
Passenger
,
Performance
,
Premium
,
Provider
,
Purchase
,
Run
,
Satellite
,
SES
,
Speed
,
Support
,
Television
,
Travel
,
Trial
,
TV
,
Video
,
Wi-Fi