Chip manufacturer GlobalFoundries requested the U.S. International Trade Commission impose an import ban on Taiwan Semiconductor Manufacturing Company (TSMC), part of a multi-front attack. An import ban would impact iPhones, Lenovo laptops and other electronic devices. The company has also filed 25 complaints in courts in the U.S. and Germany, alleging that TSMC violated 12+ patents for chips and chipmaking methods. Apple, Google, Qualcomm, Cisco Systems, Nvidia, Broadcom, Xilinx, Lenovo and Motorola are also named in the suit.
The Wall Street Journal reports that "the ITC is an independent, quasi-judicial body that can block importing of foreign products that are found to infringe on U.S patents." "For years, while we have been devoting billions of dollars to domestic research and development, TSMC has been unlawfully reaping the benefits of our investments," stated GlobalFoundries senior vice president Gregg Bartlett.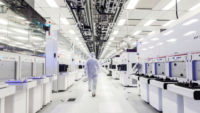 WSJ notes that "an ITC-import ban could have a significant impact on TSMC and customers like Apple and Lenovo that do a lot of their manufacturing abroad."
GlobalFoundries, based in Santa Clara, California and owned by an investment arm of the Abu Dhabi government, has invested $15 billion in the U.S. in the last decade and $6+ billion in Europe. Even so, TrendForce reported that GlobalFoundries' market share for Q1 2019 is a mere 8.4 percent compared to TSMC's 48.1 percent and Samsung's 19.1 percent. The latter two companies have debuted "ever-smaller transistors that allowed their chips to power faster and smaller computers."
At Moor Insights & Strategy, president of analysis Patrick Moorhead said he believes that, "GlobalFoundries was trying to collect royalties behind the scenes, failed, and will now let the courts decide." A GolbalFoundries spokeswoman disputed that account.
The New York Times dubbed GlobalFoundries' suit "a surprise move," adding that it "underscores the electronics industry's overwhelming reliance on TSMC." According to GlobalFoundries, TSMC produces 90 percent of the most advanced chips. That fact could attract the attention of the Defense Department, where officials are concerned about foreign provenance for "components for advanced weapons and intelligence-gathering systems."
"It's almost like someone in the U.S. State Department gave them the green light for this suit, and said 'We'll give you air cover'," said Moorhead. Suing TSMC's customers, however, "runs the risk of angering current or potential customers for GlobalFoundries."