Amazon chief executive Jeff Bezos revealed more details of his Low Earth Orbit satellite plan for broadband Internet access with the announcement of Project Kuiper, a 3,236 array of satellites. Elon Musk's SpaceX Starlink also recently launched a rocket with 60 satellites. These players, joined by OneWeb and others, are competing and, in the process, making LEO satellites for broadband a reality. SpaceX will first debut services in North America, with future plans to cover the planet, and Amazon has similar aspirations.
The Next Web reports that an analysis of the U.S. market pricing data "suggests that the technology could save Americans more than $30 billion per year." LEO satellites orbit "between 99 to 1200 miles — versus 22,000 miles of traditional GEO satellites — which means less time to transfer information (lower latency) and a quality of service comparable to wired cable and fiber broadband providers."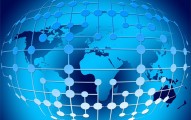 LEO service is also able to offer "robust Internet access to underserved and rural communities … [and] drive down monthly Internet prices for hundreds-of-millions of Americans."
According to TNW's research of 2,000+ ISPs, the average "lowest available monthly price" for "the estimated 104 million Americans with only one wired broadband provider is $68." For those with two choices, the average lowest price dips to $59 and for the 15 million with five or more choices, the average cost is $47. Since LEO technology will, in principle, be available anywhere, it will likely have a "powerful influence" on Internet prices.
The potential for $30+ billion in savings breaks down into the $14+ billion that 263 million Americans with three or fewer wired broadband providers will save when Starlink debuts. Americans with four or more providers "could save an additional $4 billion, pushing the savings to $18 billion." The launch of both Starlink and Project Kuiper are estimated to bring savings to $30+ billion.
These new ISP providers will also connect an estimated 10 million Americans who still don't have high-speed Internet. LEO broadband is predicted to spread through the globe, "permanently altering the landscape of the Internet as we know it."
Topics:
Amazon
,
Broadband
,
Cable
,
Elon Musk
,
Fiber Cable
,
GEO
,
Internet
,
ISP
,
Jeff Bezos
,
LEO
,
Low Earth Orbit
,
Low Latency
,
Mobile
,
North America
,
OneWeb
,
Project Kuiper
,
Rockets
,
Satellite
,
SpaceX
,
Starlink
,
Wired Cable
,
Wireless