The global shortage of computer chips has been widely documented, impeding sales of everything from cars to appliances, game consoles and medical devices, among other things. As a result, Taiwan's giant TSMC has seen its revenue and influence increase, but scarcity has also bolstered the clout of less famous manufacturers, including Infineon, Microchip Technology, NXP, Onsemi, Semiconductors and STMicroelectronics, which supply a variety of chips for thousands of customers. Companies are using their newfound leverage to gain favorable terms, like long-term commitments or upfront payment as a means of helping to increase production.
"The power shift has been unmistakable," writes The New York Times, noting diminished leverage for buyers. It's a substantive change in what had been a staid industry with slow growth and little differentiation between products.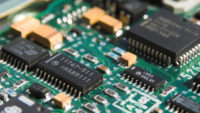 The detrimental effect of the pandemic — factory closings, port backups, worker shortages — has coincided with an explosion in demand. In the third quarter of 2021, total chip sales increased by almost 28 percent, to $144.8 billion, according to the Semiconductor Industry Association. And if the current demand is any indication, there may be even greater growth ahead.
In June the Senate approved the CHIPS for America Act, with $52 billion in funding that includes subsidies for more U.S. chip production. But the bill has languished in the House. There have been estimates that it could take at least two years, possibly more, to build new U.S. semiconductor plants, which are expected to cost $8 billion or more each. China has for more than a decade subsidized its domestic chip manufacturers.
Microchip Technology has already increased output from its three main factories in Arizona and Oregon, but is still unable to keep up with demand. Further expansion is difficult because, among other reasons, the used manufacturing equipment market on which the company had previously relied has dried up.
The Wall Street Journal estimates that as many as a third of the world's chips are created on used equipment. And although this older equipment is used to manufacture less sophisticated and thus less costly chips than those used as the brains of smartphones, cameras and computers, the used gear produces approximately half the global semiconductor industry's revenue.
Related:
Semiconductor Industry Isn't Spending Big on Scarce Old-Tech Chips, The Wall Street Journal, 11/9/21