A fast-growing variety of free messaging apps — including WhatsApp, WeChat, Line and KakaoTalk — are now commonly used by hundreds of millions of people around the world. The apps are causing concern for an array of tech companies since communication via free messaging does not benefit mobile carriers or phone makers financially. Use of the messaging apps can also reduce time spent on conversational channels such as social networks.
The Line app, for example, has been downloaded more than 110 million times and is especially popular in Japan, according to Jeanie Han, CEO of Line USA.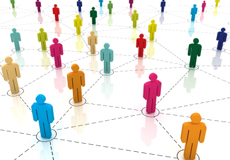 "The app, and others like it available for download, are rapidly replacing the fixtures on phones from BlackBerry, Apple and others," reports the Wall Street Journal. "Texting apps are especially costing wireless carriers, which for years relied on the services for the bulk of their revenue."
"By some estimates a single text, which may cost as much as 20 cents to send or receive, costs the carriers themselves just one-hundredth of a cent," notes the article. "The rise of texting apps has taken away $23 billion in revenue from carriers as of the end of 2012, according to market research firm Ovum."
As a result, companies like Facebook, Deutsche Telekom AG and Samsung Electronics "are making a land grab into the messaging app market," suggests WSJ.
"Facebook acquired mobile messaging startup Beluga in 2011 and recently expressed interest in buying WhatsApp Inc. — a company that has also been approached by Google and Tencent Holdings Ltd., people familiar with the matter said. The company, which consistently appears near the top of Apple's list of top paid mobile apps, wasn't interested in selling."
Deutsche Telekom invested $7.5 million in messaging app Pinger last year; South Korea's largest mobile carrier, SK Telecom, purchased MadSmart and its messaging app TicToc; social gaming company Zynga has a partnership with Tencent and has reached out to Kakao and others to promote its games via messaging apps.
"Samsung, which debuted its own messaging app called ChatOn in late 2011, has reached out to mobile messaging startups including MessageMe, for possible partnerships, said people with knowledge of the matter," explains WSJ. "The handset maker, according to one person close to the company, is trying to bulk up on mobile software as mobile becomes a larger portion of its revenue."
Additionally, Facebook is ramping up its mobile messaging efforts by adding new features to its messaging app. The company has already added features such as calling, voice mail and impermanent texts — and has plans to accelerate product releases for messaging services. Peter Deng, Facebook's director of product management, says he now spends about 75 percent of his time on mobile messaging.
Topics:
Apple
,
Apps
,
BlackBerry
,
Carrier
,
Deutsche Telekom
,
Facebook
,
Free
,
Free Messaging
,
LINE
,
Messaging
,
Ovum
,
Samsung
,
Silicon Valley
,
Social
,
Text
,
Texting
,
WeChat
,
WhatsApp