Facebook engineers tested the transmission of information across a trans-Atlantic-Internet cable, claiming they set a record by pushing two-and-a-half-times more data than current methods. The test was based on hardware designed by the Nokia-owned R&D facility Bell Labs, and relied on optical fiber Facebook owns inside the America Europe Connect (AEC) undersea cable that spans from New York to Ireland. Facebook's test is part of a trend whereby Internet companies, rather than infrastructure firms, are driving the evolution of the Internet.
Wired reports that Google, Amazon and Microsoft, as well as Facebook, are part of this trend, "all working to accelerate the evolution of the Internet itself, pushing past the companies that traditionally built, deployed, and operated the infrastructure that underpins the global network."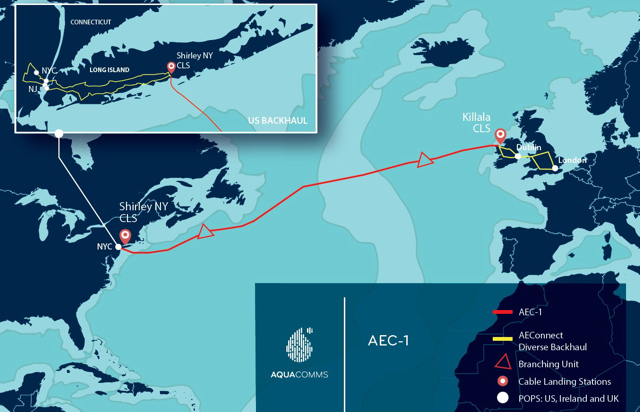 The new optical transmission technology, based on probabilistic constellation shaping, is only one recent effort by Internet companies, which have also "started building high-altitude balloons, drones, and wireless antennas to make the Internet accessible in entirely new locations."
With its investments in virtual reality, Facebook is looking for ways to push more data through cables, purchasing "a certain amount of bandwidth" on the 3,400-mile AEC cable less than 15 months ago. Now, with this test, it's shown "that it can dramatically increase how much information it sends through the same amount of fiber, creating more bandwidth than it purchased."
The trend could incentivize R&D companies and hardware manufacturers to design for Internet companies, not just telecoms, and to move at an accelerated pace, such as Nokia did with Facebook. It could also negatively impact hardware manufacturers, since "Google and Facebook often build their own hardware infrastructure."
But the result, says Wired, will be that "in the years to come, Google and Facebook and other Internet giants will deliver far more complex applications to you far more quickly." Other online companies could similarly benefit, especially since Facebook "has worked for years to freely share its infrastructure ideas and designs with the world at large" via the Telecom Infrastructure Project.
Topics:
AEC
,
AEConnect
,
Amazon
,
America Europe Connect
,
Aqua Comms
,
Atlantic Ocean
,
Balloons
,
Bandwidth
,
Bell Labs
,
Data Transmission Speeds
,
Drone
,
Facebook
,
Google
,
Internet
,
Ireland
,
Microsoft
,
New York
,
Nokia
,
Probabilistic Constellation Shaping
,
Telecom
,
Trans-Atlantic
,
Transmission Speed
,
Undersea
,
Virtual Reality