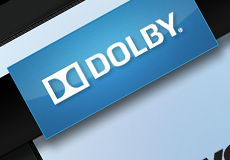 Dolby and Philips are proposing a new 3D HD format dubbed "Dolby 3D," which will be demoed this week at NAB in Las Vegas.
The format is "aimed at delivering full HD 3D content to enabled devices, including glasses-free displays," writes Carolyn Giardina for The Hollywood Reporter.
"We believe that Dolby 3D can help drive the adoption of 3D — creating a comfortable, customizable, truly enjoyable glasses-free 3D viewing experience while enhancing 3D display performance," said Dolby's Ramzi Haidamus, executive vice president, sales and marketing.
"The Dolby 3D format would effectively be used for encoding/decoding, transmission and rendering to 3D-ready displays and mobile devices. Dolby and Philips have started to engage standards bodies and have an eye toward licensing the technology," writes Giardina.