Virtual reality content creator Jaunt has partnered with longtime movie sound experts at Dolby to improve the audio in immersive experiences. Audio is a crucial part of making VR feel more like reality, and the Dolby Atmos system will allow Jaunt to specifically target sounds so that they seem as if they are coming from a very specific location. The new technology is expected to improve VR storytelling since content creators would be able to use sound to redirect a user's attention.
Jaunt currently makes short VR films with its custom camera rig and a special microphone to capture sound while on set. Dolby's Atmos system will easily integrate with the existing technology because the Atmos system is object-oriented. Now, the VR makers will be able to take full advantage of their 360-degree soundscape that changes as users move their heads.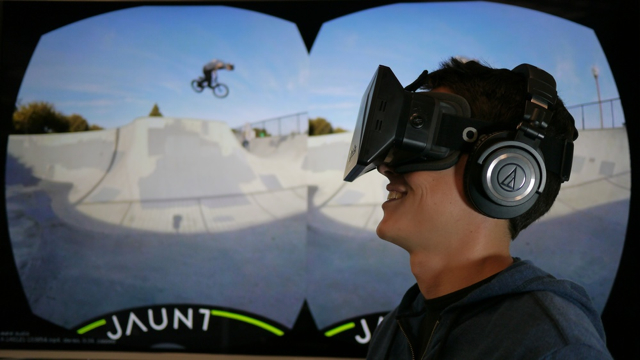 For one Verge writer, the new sound was particularly effective in a revamped version of "Black Mass," an experience in which the viewer gets kidnapped for a Satanic ritual. The sounds were able to distract and frighten reporter Bryan Bishop, turning what used to be an amusing experience into an unnerving one.
Jaunt is re-releasing two of its other Google Cardboard Android apps with the Dolby Atmos technology as well: "Kaiju Fury!" and a Paul McCartney performance. New content and added support for other types of phones will be added beginning later this year. Dolby may also seek out other partnerships to continue bringing surround sound to VR.