Dealflicks is a company that offers movie and concession discounts in order to fill the empty seats in movie theaters. According to Dealflicks, about 88 percent of seats remain empty on average. The company is partnering with movie theaters to help attract consumers through special deals. Dealflicks has already raised $1.7 million in seed funding in order to offer these discounts through its mobile app. Meanwhile, over 400 theaters have partnered with the company.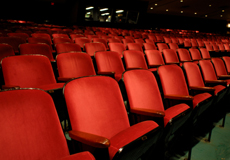 "Investors in the round include 500 Startups, Siemer Ventures, Archer Gray, Rubicon VC, Wefunder, Be Great Partners, Rosepaul Investments, Mogility Capital, Sierra Maya Ventures, and Warner Brothers Media Camp," reports TechCrunch. "It also had some angels participate, including Ajay Narula, Richard Wolpert, Larry Braitman, Marc Berger, Hersh Narula, Jason Kothari, Darcy Wedd, and others."
Dealflicks claims that 88 percent of seats are commonly empty, which often increases to 95 percent in the weeks following an opening.
The startup has partnered with nine of the top 50 theater chains in the U.S. The mobile app allows users to search for a movie to find discounted showings near them.
The discounts can reach 60 percent, but the average is 30 percent. Ticket and popcorn deals reach between 35 and 40 percent.
Discounts are higher or lower depending on the time of the showing, the day of the week and how many people are expected to attend.
"Given the amount of data that it has, Dealflicks believes that it can better predict attendance for different movie showtimes and offer targeted discounts based on user ratings, how well a movie did on opening weekend, and even what the weather is like on any given day," explains TechCrunch.
Topics:
500 Startups
,
Darcy Wedd
,
Dealflicks
,
Exhibition
,
Film
,
Hersh Narula
,
Investor
,
Jason Kothari
,
Larry Braitman
,
Marc Berger
,
Mobile App
,
Mogility Capital
,
Movie
,
Popcorn
,
Richard Wolpert
,
Rosepaul Investments
,
Rubicon VC
,
Seed Funding
,
Siemer Ventures
,
Sierra Maya Ventures
,
Startup
,
Warner Brothers Media Camp
,
Wefunder