The fallout from cryptocurrency exchange FTX's implosion continues, as BlockFi becomes the latest crypto lender to file for Chapter 11 bankruptcy protection, in the wake of similar moves by Voyager and Celsius. BlockFi, which was to have been acquired by FTX, filed in U.S. Bankruptcy Court for the District of New Jersey indicating more than 100,000 creditors, and liabilities combined with assets that range from $1 billion to $10 billion. An outstanding loan to Sam Bankman-Fried's bankrupt American division FTX US for $275 million was among the liabilities.
BlockFi's Bermuda subsidiary also filed for bankruptcy concurrently. "Bermuda, like the Bahamas, has embraced crypto as the future of finance," writes CNBC, explaining that both territories "established frameworks to deal specifically with crypto assets and digital currencies."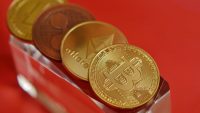 The Bahamas, following the FTX bankruptcy, and now Bermuda, faced with BlockFi's insolvency, face the first major legal tests regarding their cryptocurrency regulations.
Filed Monday, BlockFi's Chapter 11 petition reveals it listed its largest creditor as a client with a balance of about $28 million."BlockFi looks forward to a transparent process that achieves the best outcome for all clients and other stakeholders," Berkeley Research Group's Mark Renzi said in a press statement quoted by CNBC. BRG is a financial advisor to BlockFi.
The New York Times describes BlockFi as a Jersey City, New Jersey-based "cryptocurrency lender that targeted ordinary investors eager for a piece of the crypto mania" and says it was "felled by its financial ties to FTX, the embattled exchange whose recent downfall has shaken the crypto industry to its core."
Another U.S. crypto firm, Bitfront, announced Sunday that it will cease operations in a few months, according to Reuters, which reports that the California-based company will "continue growing the LINE blockchain ecosystem and LINK token economy."
Coindesk reports a new JPMorgan report says that "centralized crypto exchanges will remain dominant" despite the FTX collapse, preempting decentralized exchanges.
"Centralized exchanges will continue to control the majority of global digital-asset trading volumes, JPMorgan said, contradicting some crypto-native experts who expect a shift toward decentralized platforms in the wake of FTX's collapse," per Coindesk.
Meanwhile, Wired writes that "the U.S. Congress is starting to question this whole crypto thing" after "hundreds of thousands of investors just had billions picked from their collective e-pockets."
Related:
'No Cooperation': How Sam Bankman-Fried Tried to Cling to FTX, The New York Times, 11/29/22
Social-Media Giant LINE Closes Its Crypto Exchange Bitfront, CoinDesk, 11/28/22
JPMorgan: Push to Regulate Crypto to Accelerate After FTX's Collapse, CoinDesk, 11/28/22
Idle Crypto Is the Devil's Workshop (Opinion), The New York Times, 11/27/22
U.S. Crypto Exchange Kraken Settles with Treasury Dept., The New York Times, 11/28/22
Musk-Twitter, Crypto Crash, Metaverse: Lessons from Tech's Biggest Fails, CNET, 11/28/22
Topics:
Bahamas
,
Bankruptcy
,
Bermuda
,
Bitcoin
,
Bitfront
,
Blockchain
,
BlockFi
,
BRG
,
California
,
Celsius
,
Chapter 11
,
Congress
,
Crypto
,
Cryptocurrency
,
Decentralized
,
Exchanges
,
Finance
,
FTX
,
Investor
,
JPMorgan
,
Legal
,
LINE
,
Link
,
Mark Renzi
,
New Jersey
,
Regulation
,
Sam Bankman-Fried
,
Voyager