According to a recent Harris poll, 14 percent of respondents and 25 percent of millennials would accept an added fee for same-day delivery of online purchases. The mean price these consumers are willing to pay is $13.90. Customers want faster, but affordable delivery, so startups are taking on the traditional infrastructure approach of Amazon (involving warehouses, vehicle fleets and full-time employees) by rethinking operations and, in many cases, turning to crowdsourced workers.
"By focusing attention on creating a powerful logistical system, and tying into the 'sharing economy,' many of the new crop of startups in the on-demand space are trying to offer faster service at a much lower operational cost," explains Re/code.
These are the startups delivering products via crowdsourced workers.
"Usually, these are independent contractors, who decide when they want to work, drive their own vehicles, receive directions about where they need to be via smartphone — and cover the cost of their own parking tickets," notes Re/code. "The new buzzword for this is 'fractional employment.'"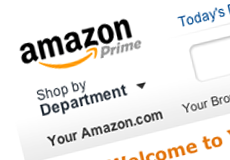 Meanwhile, companies like FedEx are skeptical of this need. "The demand for same-day service is a relatively small, discrete segment of demand," FedEx CEO Fred Smith said. "We have FedEx SameDay City in 22 markets. We don't see that as a big threat, or quite frankly, a huge opportunity, either."  
However, FedEx same-day delivery can cost $50. Menlo Park startup Deliv is trying to build "the PayPal button for delivery," to ship products to customers later that day for as little as $5, according to CEO Daphne Carmeli.
Meanwhile, Google and Barnes & Noble are partnering to compete with Amazon in the fast and cheap delivery of books.
Google Shopping Express will allow users to receive same-day delivery from their local Barnes & Noble. The option will begin in Manhattan, West Los Angeles and the San Francisco Bay Area this week.
Amazon already offers same-day shipping at $5.99 for Prime members and $9.98 for other users.
"Amazon poses a persistent and growing threat to Google and Barnes & Noble," reports The New York Times. "Its rise has contributed to lagging sales and diminished foot traffic in Barnes & Noble's physical stores, and it dominates the online market for print books. Amazon's popularity as an online shopping destination has the potential to undercut Google's lucrative search engine advertising business."
"Google's approach differs from that of Amazon and other big retailers," explains NYT. "Instead of relying on warehouses full of merchandise, Google is using a fleet of couriers who collect products from local stores, sort and bundle them and deliver them within a three- to four-hour window selected by the customer. Delivery is free for subscribers to Google Shopping Express, and costs $4.99 per delivery, per store for others. Membership is free for the first six months."
Topics:
Amazon
,
Amazon Prime
,
Barnes & Noble
,
Book
,
Crowdsourcing
,
Daphne Carmeli
,
Deliv
,
Delivery
,
E-Commerce
,
FedEx
,
Fractional Employment
,
Fred Smith
,
Google
,
Google Shopping
,
Google Shopping Express
,
Harris
,
Los Angeles
,
Millennial
,
New York
,
Online
,
PayPal
,
Retail
,
SameDay City
,
San Francisco
,
Shipping