A recent survey shows that Google's Chromecast media dongle is now more popular among U.S. households than the Apple TV set-top box. The small Chromecast device simply plugs into a TV's HDMI slot to play streaming media content from the Internet. At just $35, Chromecast continues to gain momentum with consumers looking for an affordable means of playing video on their TVs from services such as Hulu, Netflix and YouTube. Despite Chromecast's new position in the rankings, it remains second to Roku.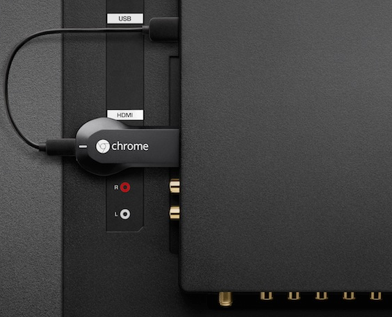 Chromecast's lead over Apple was determined by Parks Associates, which conducted a survey across 10,000 U.S. homes with access to broadband Internet. The survey shows that for the first ten months of 2014, nearly a tenth of the homes surveyed acquired either a streaming set-top box or a media stick.
The results of the survey ranked Roku as the leader in sales with 29 percent, Chromecast in second with 20 percent, Apple TV in third with 17 percent, and the Amazon Fire Stick pulling in about 10 percent of total sales for streaming devices.
Other companies have taken note of Chromecast's success and have adjusted pricing for their own streaming devices. According to The Wall Street Journal, Roku's original streaming stick was priced at $99 back in 2012. The latest version of the device is available for half that cost. The same is true of Amazon's Fire TV video stick that retails for $39, a much lower cost than that of the $99 Apple TV, the original Roku stick, or the STB version of the Fire TV.
"More than 25 percent of U.S. broadband households will have a streaming media player by 2015, and by 2017, there will be nearly 50 million streaming media players sold globally," said Barbara Kraus, director of research for Parks Associates. "Their low cost will make streaming media devices popular gifts this holiday season."
Topics:
Amazon
,
Amazon Fire TV
,
Apple
,
Apple TV
,
Barbara Kraus
,
Broadband
,
Chromecast
,
Dongle
,
Google
,
Hulu
,
Internet
,
Media Stick
,
Movie
,
Netflix
,
Over-the-Top
,
Parks Associates
,
Roku
,
Roku Streaming Stick
,
Set-Top Box
,
STB
,
Streaming
,
Streaming Stick
,
TV Show
,
Video
,
YouTube